A new partnership between Brooklyn College and Mexican universities provides top Mexican students with a rare academic and cultural experience in New York City.
/web/new_2015news/Immersion_94x84_150819.jpg
NYC Cultural Immersion Preps International Students for Global Professions
Aug. 19, 2015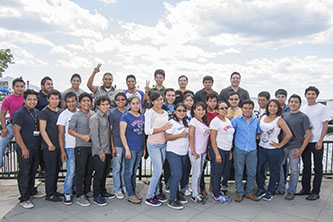 Andrea Tzili Apango is one of just six women in a class of 26 students majoring in engineering and technology at Universidad Politécnica de Puebla in Mexico. She is keenly aware of her status as a minority in the STEM (Science Technology Engineering Mathematics) discipline. But instead of feeling defeated, she has a plan for thriving within this fast-growing field.
"When students attempt to obtain jobs or internships in the industry, employers assume that the men are more knowledgeable and prepared than women," says Apango, who, unlike her two older brothers, is following in her father's footsteps to become an engineer. "The primary reason I applied to the Secretary of Education for the State of Puebla – Brooklyn College, City University of New York (SEP-BC/CUNY) Program is because I believe learning English can help remove some of the obstacles I face as a woman in this job market by giving me an additional, valuable skill that distinguishes me from the competition."
The new 30-day program, paid for through a scholarship funded by the Secretariat of Education of the Mexican State of Puebla and Governor Rafael Moreno Valle, provided top students from colleges and universities in Puebla the select experience of visiting Brooklyn College to participate in an English-language immersion course and receive a firsthand understanding of the culture and history of Brooklyn and other parts of New York City.
"It isn't primarily about the resources being brought to us through the implementation of this program, but rather the human component that we add," says Jesús Pérez, director of the Brooklyn College Center for Academic Advisement and Student Success (CAASS) and executive director of the CUNY Working Task Force on Strengthening Educational Opportunities for the Mexican and Mexican Americans. Pérez played a critical role in coordinating with the various CUNY and Brooklyn College units to ensure the program's success. "It's about building bridges and cooperation. We are reconnecting to countries that are our neighbors. Strong neighbors make great allies."
For the first week, students studied on the main Brooklyn College campus before spending two weeks at 25 Broadway, the college's satellite location in Manhattan's Wall Street district.  Learning in the economic center of commerce was a big deal to Pablo Piña Acosta, a student at Instituto Tecnológico Superior de Acatlán de Osorio studying electronic engineering. He said the program allowed him to experience what has been a lifelong dream: to visit the United States. He had attempted an academic career 15 years earlier, but he says he was not mature enough at the time to devote the kind of time and effort necessary to become a prosperous student. He appreciates the second chance he is currently enjoying.
"In Mexico, the biggest opportunities, the best wages come when you have a degree," says Acosta, who began learning English by watching American films and listening to American music. He worked extremely hard his second go round and, as a result, qualified for the scholarship that allowed him to participate in the program where he says his English has vastly improved. "I can understand what you're saying and you can understand what I'm saying. I'm putting into practice all of my skills, trying to improve all the time. Every single second I spend here, I'm listening. I don't want to waste this opportunity Brooklyn College has given to me."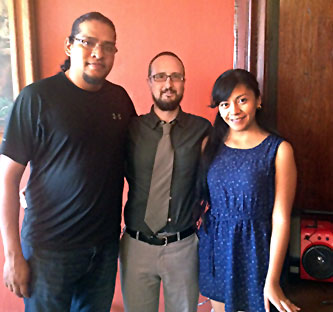 Lucas G. Rubin, assistant dean for academic programs and chief administrative officer at 25 Broadway, whose faculty instructed the students from Puebla, says there are very practical reasons for these students to participate in the program.
"Quite a few multinational corporations have invested in Puebla—Kraft, Pepsi and Volkswagen, for example. And the corporations use English as the international language of commerce," says Rubin. "Puebla is very interested in having their residents become more competitive for jobs.  Our program is an international career development program giving them those English language skills." 
The students not only learn English, but experience what life is like in the United States through the lens of New York City.  They visit museums, tour historical sites in Brooklyn and Manhattan, and are guided by their instructors on how to connect what they observe during these field trips to the work they are doing in the classroom.
"These are students who would not have been able to visit our campus without the financial assistance this program provides," says Terrence Cheng, associate provost for academic affairs. "And, in turn, our campus, and our own academic environment would not have been enriched by the presence of these students if we weren't able to bring them here."
Forging these international relationships has been a cornerstone of Karen L. Gould's presidency. On July 9, she, along with the Consul General of Mexico Sandra Fuentes-Berain and Jaime Lucero of the Jaime Lucero Mexican Studies Institute, attended a dinner reception held in honor of Apango and Acosta and the other 28 students from Puebla.
"Our idea was to start expanding the summer semester, once we had begun to develop partners in different parts of the world, so that we could invite students here for the opportunity to live, learn, and discover New York City," President Gould said to the attendees. "Brooklyn, in particular, is the primary place of immigrants to the United States. Brooklyn College students were born in over 150 different countries and speak over 105 different languages. Brooklyn College is a welcoming place for diversity of all kinds. And not only is it welcoming, but it provides valuable opportunities for multicultural experiences and global literacy."
On their last field trip, the students visited the Statue of Liberty and reflected on the idea of a country whose entrance is welcoming and receptive. "I told the students: 'This spirit of Lady Liberty, of human connectedness, goes back centuries. Carry that home with you,'" says Pérez.
The next day, students graduated from the program in a ceremony held in the Brooklyn College Student Center. On July 31, they returned to Mexico as ambassadors for all they had learned, discovered, and benefited from as guests of Brooklyn and students of Brooklyn College.
The SEP-BC/CUNY Program is the result of collaboration between CUNY and the Mexican state of Puebla. It was facilitated through the diligence and teamwork of the agencies and individuals mentioned previously, as well as the Mexican consulate; Frederick P. Schaffer, CUNY general counsel and senior vice chancellor for legal affairs; Jay Hershenson, CUNY senior vice chancellor for university relations and secretary of the Board of Trustees; Julia Wrigley, CUNY interim executive vice chancellor and university provost; Andrew Sillen '74, vice president for institutional advancement, Brooklyn College Foundation; Lillian O'Reilly, acting vice president of enrollment management, Brooklyn College; Keisha Simon, director of the Office of International Student and Scholar Services, Brooklyn College; Alan Gilbert, chief financial officer and associate vice president for budget and planning, Brooklyn College; Courtenay Barton, associate director of stewardship for the Brooklyn College Foundation; Beatrice Tony-Jean, special projects assistant for the Office of the Associate Provost for Academic Programs, Brooklyn College; and Ronald Jackson, dean of students in the Division of Student Affairs, Brooklyn College.
Back to BC News