Texas native Amanda Reyes moves closer to dream of becoming a director as a member of the Barry R. Feirstein Graduate School of Cinema's inaugural class this fall. 
/web/new_2015news/150827_AmanaReyesthumb_94x84.jpeg
Feirstein First Class
Aug. 27, 2015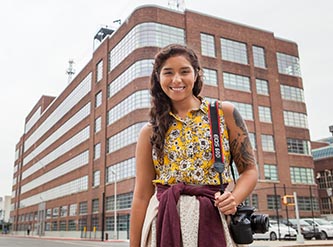 Texas native Amanda Reyes studied acting for three years at the American Academy of Dramatic Arts in Los Angeles, where she went on audition after audition for what she says were the most stereotypical Latina roles.
"I thought, I can make better scripts than this," says Reyes. "I can make films that represent us better and make a real impact."
As a member of the inaugural class of the Brooklyn College Barry R. Feirstein Graduate School of Cinema at Steiner Studios, which opens its doors this fall, Reyes can now pursue her dream of directing the type of films that truly inspire her. And being in Brooklyn makes that experience even more enriching, she says.
"I'm really attracted to this city, the realness of it. People preserve and embrace their culture here. It's a great place to tell authentic stories," says Reyes. She joins a class of more than 50 percent women and 45 percent from underrepresented groups.
The Feirstein school is the first public graduate school of cinema in New York and the only one housed on a working film lot. Located at Steiner Studios in the Brooklyn Navy Yard, the school features state-of-the-art production and post-production facilities, one of the largest student sound stages in the country, and a full complement of lighting, grip and electrical equipment. It's also the first 21st Century film school to be built for the contemporary cinema environment.
"By any standard, this is an extraordinary accomplishment and speaks to our intention to create a space for new and emerging voices," says Jonathan Wacks, founding director of the school and an award-winning director and producer of a number of films and television shows.
He calls Reyes "an impressive young woman who brings a complex and powerful set of experiences to her aspiration to be a film director."
She has already directed a short film, Nickel, which is currently making the rounds in a number of small film festivals. It won the award for best production design at Columbus State University's American Youth Film Festival. 
Reyes led a crowd funding campaign to raise money for her film project, which she completed during her senior year at the University of North Texas. She graduated from there last May with a bachelor's degree in radio, television and film. The 10-minute short film is about the hardships faced by the families of prison inmates. 
"Directing is my passion," she says.
Meet more of the #FeirsteinFilm inaugural class on Facebook and Twitter. 
Back to BC News