Launched in fall 2015, Feirstein is the first public graduate school of cinema in New York City and the only one in the nation housed on a working film lot—Steiner Studios at the Brooklyn Navy Yard.
/web/new_2015news/deBlasio_94x84.jpg
New York City Mayor Bill de Blasio Welcomes Inaugural Class at Brooklyn College Barry R. Feirstein Graduate School of Cinema Ribbon Cutting Ceremony, Oct. 6
Oct. 14, 2015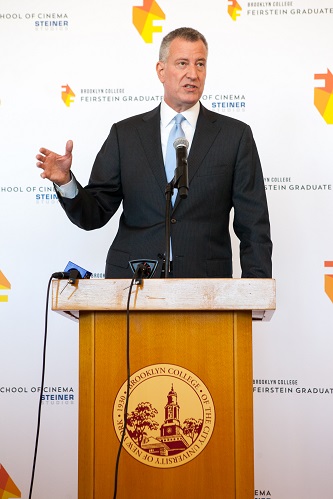 Mayor Bill de Blasio joined Barry R. Feirstein '74, City University of New York (CUNY) Chancellor James B. Milliken, elected officials and distinguished guests in a ribbon cutting at Brooklyn College's Barry R. Feirstein Graduate School of Cinema on Oct. 6. More than 100 students, film industry professionals and esteemed guests were in attendance. The Feirstein School, located at Steiner Studios in the Brooklyn Navy Yard, is the only public graduate school in the nation housed a working film lot and the first public graduate school of cinema in New York City.
"New York City has long been a global capital for film and television production, but today we are making an unprecedented commitment in the future of this industry and in New York's finest young filmmakers," said Mayor de Blasio. "By opening the Feirstein School, we are unlocking the door of opportunity for a talented and diverse group of students who want to get the best, most cutting-edge education in cinema, and then put those skills to use right here in New York City."
"The Feirstein School will educate a diverse new generation of filmmakers in a city that boasts a $7 billion film industry, which employs more than 100,000 people and supports thousands of businesses. This innovative new school will serve students, the film industry and New York very well," said Chancellor Milliken.
The Feirstein School, which welcomed an inaugural class of 69 this fall, provides students with access to state-of-the-art production and post-production facilities in one of the largest sound stages in the country, as well as a full complement of lighting, grip and electrical equipment. Degree programs include M.A. in Cinema Studies and M.F.A. in Cinema Arts, which is composed of five tracks—cinematography, directing, post production, producing and screenwriting.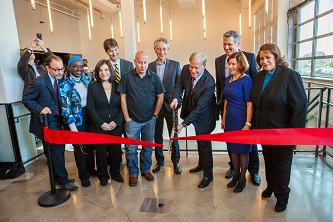 Another hallmark of the school is the involvement of seasoned directors, producers and actors, who contribute to the Feirstein's advisory board and help to guide the school toward fulfilling its mission. Among them are actor, author and director Ethan Hawke; director Steven Soderbergh; and Emmy Award-winning producer Celia Costas.
"The visionary philanthropy of Barry R. Feirstein, CUNY, the Mayor's Office of Media and Entertainment, and the New York City and State Council, among others, has enabled us to transform the lives of our students," said Brooklyn College President Karen L. Gould. "With instruction from faculty who are leaders in their fields and hands-on experience in a top notch facility, our students will be adequately prepared to succeed in the city's burgeoning film industry."
"Brooklyn College provided an excellent academic foundation for me and I'm extremely pleased to return the favor by helping to build the 21st century cinema school that will both strengthen the college and provide access to exciting careers for today's students," said Feirstein.
"We are simply elated to have the Feirstein Graduate School of Cinema here on the Steiner Studios lot," said Douglas C. Steiner, chairman of Steiner Studios. "This collocation of academia and industry is cutting edge. Students are immersed in the real-world, thriving industry of film and television, and being trained for the jobs of tomorrow. This is New York's future at its best."
Emceeing the event was actor Fisher Stevens. Other speakers included screenwriter and director Darren Aronofsky; David Ehrenberg, president and chief executive officer of the Brooklyn Navy Yard Development Corporation; New York City Film Commissioner Cynthia Lopez; Maria Conelli '80, dean of the Brooklyn College School of Visual, Media and Performing Arts; Feirstein School Founding Director Jonathan Wacks; and New York City and State officials.
The Feirstein Graduate School of Cinema is the result of an extensive public-private partnership among notable Brooklyn College alumni, the Mayor's Office of Media and Entertainment, Steiner Studios, the New York City Council, the Brooklyn Borough President, and the City University of New York. Founding donors include alumni Don Buchwald '59, Roy Furman '60, Jules Haimovitz '71, and Michael Lynne '61.
Learn more about the Feirstein school here, or sign up for our e-newsletter.
Back to BC News