BAFTA scholars will gain access to career-building events and will receive mentoring from the organization's members.
/web/new_2015news/102115_BAFTA_94x84.jpg
Television and Radio Students Win Competitive Awards from the British Academy of Film and Television Arts
Oct. 21, 2015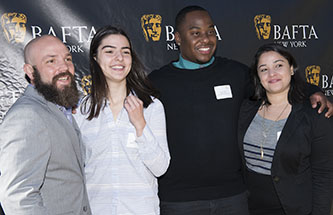 For a second consecutive year, four Brooklyn College graduate students from the Department of Television and Radio were each honored with scholarships facilitated by the British Academy of Film and Television Arts (BAFTA), totaling $15,000.

The awards are part of BAFTA's New York Media Studies Scholarship Program, which supports 30 undergraduate and graduate students pursuing media studies at New York's higher education institutions.

"Our department is very proud of our four scholars," said Television and Radio Chair Stuart MacLelland. "The relationship with BAFTA is invaluable because, not only does the organization provide financial support to our M.F.A. students, it introduces them to the industry professionals who will help them grow and establish their careers."

Lamont Baldwin, an aspiring reality television producer, received a Dreamworks Animation scholarship for $2,500, which will allow him to pursue his reality TV pilot project, "Tinder Loving Care," about Atlanta gay men who use the dating app Tinder.

Amina Ebada, a native of Alexandria, Egypt, aims to become a producer and assistant director, received the $5,000 BBC America Diversity Scholar award.

Jeremy Norris, a seasoned TV professional with more than 10 years of experience, received the DLT Entertainment award for $2,500, which will allow him to focus in his senior project. Norris hopes to become a television and radio professor.

Salomeya Lomidze, who came to the U.S. in 2014 from Moscow to study at Brooklyn College, will use the $5,000 she received from Walker's Shortbread Scholar award to finish her thesis, "Pickpocket," a film about a pickpocket who realizes that his family's defining craft is not something he wants to do for the rest of his life

"The scholars from the MFA program are exceedingly impressive, well-prepared and talented, and we are so gratified to be able to honor them in this way," said Susan Margolin, vice chair of BAFTA's outreach committee.

"We're thrilled with our association with the college and we look forward to seeing this new group develop their skills," said Linda Khan, the chair of BAFTA's New York Educational and Community Outreach."

In addition to financial assistance, BAFTA scholars will gain access to the institution's events and will get one-on-one mentoring from the organization's members.

BAFTA is an independent charity that supports, develops and promotes the art forms of the moving image by identifying and rewarding excellence, inspiring practitioners and benefiting the public. In addition to its Awards ceremonies, BAFTA has a year-round, international program of learning events and initiatives that offers unique access to some of the world's most inspiring talent through workshops, master classes, scholarships, lectures and mentoring schemes, connecting with audiences of all ages and backgrounds across the UK, Los Angeles and New York.
Back to BC News