The award-winning M.F.A. in Directing student—a member of the Barry R. Feirstein Graduate School of Cinema at Steiner Studios' inaugural class—benefits from expert support and state-of-the-art tools that enable him to make significant strides as a filmmaker.
/web/new_2015news/Rashan_Castro_94x84_b.jpg
Feirstein School Helps Rising Filmmaker Rashan Castro '14 Realize His Vision
Dec. 2, 2015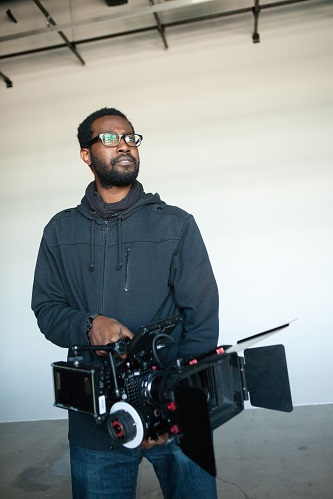 Rashan Castro '14 is somewhat shy. But within massive concrete-and-metal spread of Stage 2 at the Brooklyn College Barry R. Feirstein Graduate School of Cinema at Steiner Studios, he is a commanding presence, completely in his element. As an undergraduate, Castro won the "Outstanding Achievement in Screenwriting" and "Audience Choice" awards for his short film Balk at the 32nd Annual Brooklyn College Student Film Festival at the Brooklyn Academy of Music. Now, as an M.F.A. in Directing student, and a member of the inaugural class at Brooklyn College's first-ever graduate school of cinema, he is energized about taking his film career to the next level.
"My education at Brooklyn College helped me to become a better-rounded filmmaker," says Castro, who received a Bachelor of Arts in film. "Can I say that I'm the best? No. That's why I'm here. If I were the best, I'd be making big movies and blowing stuff up on the street," he jokes. "No, I wouldn't. I don't want to blow anything up...Okay, maybe one thing. One Michael Bay-like explosion is sufficient."
Born and raised in Harlem, N.Y., Castro now lives only a few blocks from the school in Brooklyn's Clinton Hill section. His humor is infectious, but it is also a means of self-deprecation. It is very difficult to get Castro to think of his work as brilliant and insightful, but those who have helped to guide him on his academic journey know differently.
"Rashan's undergraduate thesis film Balk was unusually accomplished and mature," says Feirstein School Academic Program Manager Matthew Moore. "It distinguished itself both in terms of its writing and its production value, as well as by the casting choices and deft direction of actors. He is a true student of film, who recognizes that it is important to understand both the history of cinema, and to be current with what is going on today."
Balk is an intense examination of a failed baseball player whose bitterness is directed toward another flawed player. He made the film for about $6,000, money that he said came in the form of a generous Christmas gift from his mother. The talent he displayed with Balk is the reason Castro was the recipient of a $24,000 scholarship from the NYC Mayor's Graduate Scholarship Program, which made it possible for him to pay for his study at the Feirstein School.
Feirstein is housed at Steiner Studios, the largest soundstage complex on the East Coast and home to many movies and TV productions. As the first public film school in New York, and the only one in the nation housed on a working film lot, Feirstein is dedicated to diversity, inclusion and the cultivation of new and emerging voices in cinema—a perfect fit for Castro.
His next project, a short silent film titled The Run, is based his experience of being stopped and frisked by the police while on his way to a production meeting for Balk.  There was a peculiar humiliation Castro felt during the interaction, he says, stemming from the officers' immediate assumption of guilt. The officers said they stopped him because he stepped out of a crosswalk in the street, just a couple of inches before reaching the curb.
"I was trying to be friendly with the officers," Castro recalls. "And I thought that because of how I was dressed, because of my education, because of my diction, I would be fine. I wasn't. Now I know how naïve that was. It didn't matter that I had a college degree, that my pants weren't sagging, or that I was law-abiding citizen. It didn't matter at all." After detaining him, the officers let him go, but the experience left Castro feeling powerless and violated.
Castro does not think of himself as the next Spike Lee, whom he idolizes, but the influence is noticeable in his deft use of sociopolitical themes and the intense performances he pulls out of the actors. "As an African American, I feel an obligation to tell these stories, to tell them from a particular vantage point and to cast particular actors in these roles," he says. "We need to see more of us on the screen and behind the scenes as well. What I want to do as a filmmaker is inform and entertain."
Great talent and great humility: these are characteristics that many Brooklyn College students share with Castro, and the goal of the Feirstein School is to take whiz kids like him and hone their skills, giving them the freedom to tell their stories and the space to create groundbreaking cinema. Castro says he simply wishes to make impactful, meaningful art and he believes the Feirstein School will provide him the proper foundation and access to industry professionals to do just that.
"What is my talent?" asks Castro. "Is it really there? I came to Feirstein to find out. Being here, among all of these talented, supportive people, I feel a certain amount of pressure to succeed. I'm hoping to exceed their expectations."
Back to BC News