Conservatory of Music master's students will work with Feirstein Graduate School of Cinema students on capstone projects.  
/web/new_2016news/SonicArts94x84.jpg
Two New MFA Programs Prepare Students for Careers in Film Scoring and Sonic Arts
Feb. 22, 2016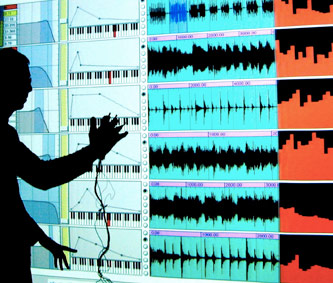 Brooklyn College will be offering two new master of fine arts degree programs starting next fall—one in Media Scoring and the other in Sonic Arts. The new programs are a partnership between the Conservatory of Music at Brooklyn College and the Barry R. Feirstein Graduate School of Cinema.
"The path to music education in the U.S. has primarily been through the lens of classical music," said Doug Geers about the sonic arts program. Geers is an associate professor at the Conservatory of Music and the director of the Center for Computer Music. "Although this is valuable, there are fantastically talented people who don't have that background but are adept with using new technologies to create. They have something to say, they have musical ideas, and the sonic arts program gives them a route into the profession."
The Media Scoring courses will mostly be held at the Feirstein campus, which is located at Steiner Studios in the Brooklyn Navy Yard—the only public film school located on a working studio lot. The program will offer advanced instruction and technical experience in the composition and production of music for media, including cinema, television, video games, animation, and other commercial applications.
The Sonic Arts program will focus on emerging technical innovations in music and sound art, sound design, and multimedia sound. It's designed to attract individuals from a wide range of disciplines and varying professional experiences as well as trained musicians. Its students will explore individualized paths through the curriculum to serve their specific artistic and professional goals.
Geers said that the sonic arts degree will provide a route for non-traditional students to get an MFA in music and that both programs will offer film and music students great opportunities to collaborate on projects like the "capstone" project, which enables student composers to score movies made by students of the Feirstein cinema program.
Graduates of the new master's programs can go on to a variety of careers, including composing and arranging for television, video games, and multimedia, as well as sound editing and music production.
Back to BC News