Shelley Jain, a Fulbright finalist and B.A.-M.D. Program student, wants to use her gifts to help others. 
/web/new_2016news/160315_shellyjain_94x83.jpg
Macaulay Honors College Student and Aspiring Physician Crowned Miss Upstate New York
March 15, 2016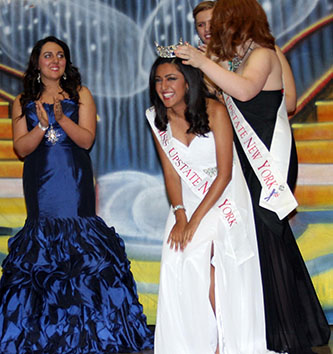 Not only is biology and broadcast journalism major Shelley Jain a finalist for a Fulbright scholarship, a regular on the Dean's List, and a member of the esteemed William E. Macaulay Honors College and the Coordinated B.A.-M.D. Program, she's also a beauty queen.
Jain recently won the Miss Upstate New York contest, taking home $500 in scholarships and winning the talent competition with a self-choreographed Bollywood fusion dance. Her title also qualifies her to go on to compete in the Miss New York competition in May. 
"I have tried to live a life that is worthy of a Miss New York and Miss America crown," says Jain, who has been competing in pageants since she was nine years old. "To see that recognition was very powerful. I was honored."
She recalls that her very first pageant didn't allow makeup, and focused on community service and public speaking, which gave her the opportunity to hone her presentation and speaking skills in a way that went beyond the preparation she was getting in school. She has also competed in the Miss America's Outstanding Teen pageant, placing in the top 5 at Miss New York's Outstanding Teen in 2010 and 2011.
The Staten Island native, who plans to become a physician and medical correspondent, has many exciting options ahead of her. She hopes to enroll at SUNY Downstate in the fall for medical school. However, if she wins the Fulbright Scholarship, Jain will spend a year abroad. Or, she may enter the Miss America competition in the fall if she wins the Miss New York pageant later this spring.

"I have always been fascinated by science and the human body and I have been raised in a family that gives back to others," she says. "These two combined into a very natural transition toward a career as a physician."
Jain has studied abroad three times—in India, China, and South Africa—and has twice been to Nicaragua with the Global Medical Brigades. She also founded an organization in which Brooklyn College students mentor local elementary school children, a cause she will champion during her reign as Miss Upstate New York.
She is also currently the president of the college's chapter of the American Medical Student Association and the deputy speaker of the College of Liberal Arts and Sciences Student Government. Jain is the past recipient of a Brooklyn College Alumni Association Award and a Claire and Leonard Tow Fellowship.
Back to BC News