Senior Matt Epstein talks about his recent once-in-a-lifetime experience as a winning contestant on one of America's favorite game shows, Wheel of Fortune.
/web/new_2016news/Epstein_94x84.jpg
Brooklyn College Student Wins $16,500 on Wheel of Fortune
Mar. 31, 2016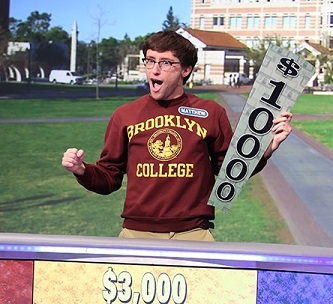 It is not every day that a student is given the chance to test his knowledge of words and phrases before millions of viewers on the longest-running syndicated game show in television history. But that is what happened to Brooklyn College senior Matt Epstein when he won the opportunity to be a contestant on Wheel of Fortune—and became the episode champion, winning $16,500 in the process.
"Simply put: It was a dream come true. Spinning the wheel—and meeting Pat Sajak and Vanna White—was one of the greatest moments of my life," said Epstein, who was not able to discuss anything about his success on the show until it aired on March 29.
Remaining practical, he plans to save most of his jackpot winnings for a rainy day.  
Epstein applied to be on the game show back in January 2015, when he sent in a video of himself to the show's producers, providing personal details about his life as a Brooklyn College student as well as information about his hobbies and other interests. A few months later, Epstein received an e-mail inviting him to audition for a spot on the show, with 75 other people, at a studio in Manhattan.
"In the letter, it said 'congratulations!' I couldn't believe it. I was jumping for joy and screaming at the top of my lungs. I couldn't sleep due to the excitement," he recalled. "I received a phone call from the producer during the first week in February telling me to come to California to be on the show. The rest is history."
Epstein believes English majors would make the best Wheel of Fortune contestants, but that didn't deter him from giving it a try. After all, the Core Curriculum ensured he had some of that training in his wheelbarrow.
"All of the reading assignments given to me have definitely helped me prepare," he said. "To succeed at Wheel of Fortune, you have to be good with common phrases and lingo. If you're good with prefixes, suffixes, preposition words, etc., you'll be in a good position."
The Brooklyn-born Epstein is a student in the School of Natural and Behavioral Sciences, studying physical education in the Department of Kinesiology. He said that he had always wanted to become a teacher and chose to study at Brooklyn College because of its affordability and competitive programs. In particular, Epstein was impressed by how the college places the highest number of qualified teachers into the New York City public school system.
"I plan to become a physical education teacher at a public school. Brooklyn College is prepping me to become one of the best."
Back to BC News