The Sellout, Beatty's most recent novel, has also been named one of the best books of 2015 by The New York Times.
/web/new_2016news/160406_PaulBeatty_94x84.jpg
Paul Beatty '89 M.F.A. Receives National Book Critics Circle Award
April 6, 2016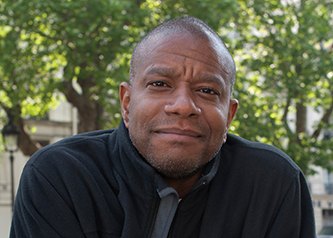 Paul Beatty '89 M.F.A. won the prestigious National Book Critics Circle fiction award for his latest novel, The Sellout. The critically acclaimed satirical work examines race and class through the outrageous actions and trials experienced by its protagonist. The National Book Critics Circle award is given to authors of works that represent "the finest books and reviews published in English."

"I worked extremely hard on the book and it was nice to be recognized by the NBCC," says Beatty. "I don't pay much attention to who wins what, but last year my good friend Willie Perdomo was nominated; they also nominated Claudia Rankin's Citizen in two categories, which I thought was very smart, so I gained a deep respect for the organization. In many respects, they go against the grain, and I'm all for that."

Beatty, the first-ever Nuyorican Poets Café grand slam poetry champion, is the author of several novels and books of poetry, including Big Bank Take Little Bank: New Cafe Poets, No.1 (Nuyorican Poets Cafe Press, 1991); Joker, Joker, Deuce (Penguin, 1994); The White Boy Shuffle (Houghton Mifflin, Picador, 1996); Tuff (Alfred A. Knopf, 2000); and Slumberland (Bloomsbury USA, 2008).

In 1989, Beatty, a Los Angeles native, graduated from the Brooklyn College M.F.A. creative writing program, one of the top ranked creative writing programs in the nation, according to Poets & Writers.

"He came to our M.F.A. Poetry Program a hyper-intelligent, linguistically alive, somewhat shy young man, whose experience of poetry was largely 'bookish' (poems he'd read in anthologies)," recalls Professor Emeritus Louis S. Asekoff, Guggenheim Fellow, multi-award-winning poet, who was coordinator of the M.F.A. program at the time Beatty attended. "He studied in workshops with Allen Ginsberg and tutorials with me. About a year into the program, Paul began writing wild and audacious poems that spoke out of his time and place. Soon, he was a celebrated hip-hop poet centerfold in the Village Voice, winner of the first Nuyorican Café slam, and author of his first book of poetry. The rest, as they say, is history."

Says Beatty, "Brooklyn was where I learned . . . not how to write necessarily, but how to think about writing. I had a few professors who helped me a great deal. Tucker Farley's seminars helped me develop an eye and feel for nuance. She never stopped peeling away the layers. Allen Ginsburg's generosity, his oddball stories, and his boundless love for poetry and process, always left me grateful and thinking, 'I didn't know you could to that.' And his insistence on clarity forced me to be precise. Plus, if you knew Allen, you knew everyone in poetry. But Lou Asekoff was the professor who was most instrumental in my growth. His patience, insight and encouragement helped me figure out not only what I wanted to say, but more importantly, how I wanted to say it."

Named as one of the best books of 2015 by The New York Times, The Sellout will be published in the United Kingdom at the beginning of May.
Back to BC News