Members of the Class of 2016 discuss their most memorable moments at the college and their plans for the next stage of their journey.
/web/new_2016news/Nicole-OBrien_CTC-2016_94x84.jpg
#BCGrad2016: Robust Campus Life Helped Nicole O'Brien Find Community and Purpose
Jun. 23, 2016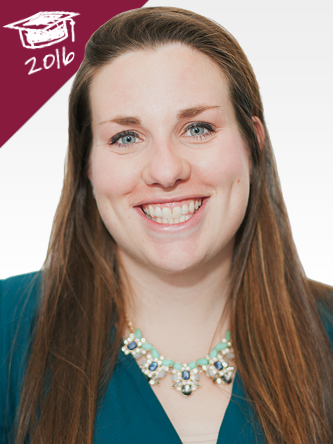 As they prepare for the next stages of their lives, members of the Brooklyn College Class of 2016 share their fondest memories at the school that they have called home.  Check back each week in June to read their first-person accounts of what they learned both in and out of the classroom, and where they go from here.
There are many reasons why I made the decision pursue my education here at Brooklyn College, despite my daily five-hour commute. They include my love for the city, the diversity of the college community, the faculty, the various degrees to choose from, the beautiful campus, and particularly, the abundance of sports teams and clubs.
After swimming for Brooklyn College, I can say I was a part of something really special. My teammates are people I can call lifetime friends. And there is no better feeling than knowing you've contributed to something great. I swam on the women's 800 free relay for Brooklyn College, which placed 3rd and finished in record time for the college.
At the conclusion of the swimming season, I volunteered at school with the VITA program, helping lower- to moderate-income families and individuals in the community who cannot afford professional tax-filing services. After participating in VITA, working with all of my classmates and with the community I realized that in the future I would love to do something tax related because that's what fascinates me.
I also participated in the Liebowitz Entrepreneurship Program at Brooklyn College with founder Ted Liebowitz '79, which was the most enjoyable and informative class I have taken at the college. We had hands-on experience when it came to selling our own products on campus, and we learned invaluable information about becoming entrepreneurs.
I loved being a part of something on campus so much, which is why I became a part of Student Leadership Council (SLC) for the Murray Koppelman School of Business, and held the social media role. The mission statement of the council really hit home with me: "The [council] cultivates collaboration and awareness among students, clubs, faculty, alumni and the business community at Brooklyn College." I'm a firm believer in "you get out what you put in." I love to encourage students to get involved within the college community, and raise awareness in regards to where the Murray Koppelman School of Business is going, as well as promote upcoming events to make their college experience more enjoyable.
Brooklyn College has prepared me for the next stage in my life and career by providing me with an excellent education. Being a part of SLC really helped me because I was able to network and gain invaluable information from professionals in the industry. By getting involved in campus activities, speaking to professionals, professors, advisers, and even getting feedback from peers, I was able to practice my skills and better prepare myself for life after Brooklyn College.
After graduation, I will be working as a member of the tax staff at Citrin Cooperman in Manhattan, and plan to pursue my CPA license.
Back to BC News