The fall 2016 incoming class is comprised of more than 4,600 students.
/web/new_2016news/Convocation_94x84.jpg
Brooklyn College Welcomes New Students at Annual Convocation
Sept. 1, 2016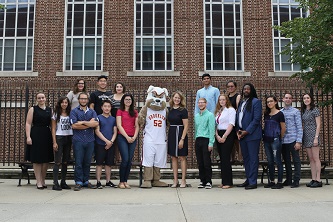 Students waved colorfully lit Brooklyn College Bulldogs batons as they were welcomed into Whitman Hall by the school mascot Buster. The Annual New Student Convocation held on Sept. 1 in Walt Whitman Hall marks the official start of the academic year at Brooklyn College.
After a video montage illustrating the college's history from 1930 to present, and a live performance by the BC Blazers Dance Team, Brooklyn College's new president Michelle J. Anderson greeted the incoming class. She encouraged students to explore new ventures, and promised to uphold the college's commitment to intellectual freedom and rigor.
"Each of you comes to this college with unique personal histories, rich and varied, and amazing stories to tell," Anderson said. "No matter your background, you deserve to be here. You are welcome here. We want you here. Here, you will learn, grow, and change—and then you will go out and make a positive difference in the world. We are so pleased to serve you on your academic journey toward graduation and the wider world, in which you will make your mark." 
For fall 2016, the college welcomed over 1,300 incoming freshman, over 2,000 transfer students, and over 1,000 graduate students, representing nearly 100 countries and speaking more than 40 languages.
"While you're getting involved on campus, exploring the city, and busy making friends, please remember why you're here: to get a college degree," said Interim Vice President for the Division of Student Affairs Ronald C. Jackson to the audience. "We have support services ready, willing, and able to help you succeed. Brooklyn College's most valuable resource is our students. So learn as much as you can from each other."
Stay current with Buster's activities on Instagram.
Back to BC News