The only one of its kind in New York, the program offers advanced training to speech therapists, psychologists, and other professionals working with families from diverse populations.
/web/new_2016news/160907b_EECteaser_94x84.jpg
New Advanced Certificate Focuses on a Transdisciplinary, Family-Centered Approach to Early Childhood Intervention
September 7, 2016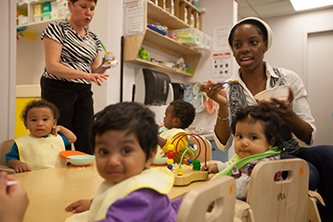 Now that public early childhood education is the law New York City, early intervention is the next frontier for educators and parents. And thanks to special funds from the CUNY Chancellor's office, the Brooklyn College Advanced Certificate in Early Intervention and Parenting program, out of the college's School of Education, was launched last year and is accepting students this fall.

"Early intervention covers children from birth to three years of age, with specific mental, cognitive, or physical disabilities," explains Associate Professor Jacqueline Shannon, chair of the Early Childhood and Art Education Department, warning that there has been a shift in early intervention pedagogy that requires that parents be actively involved.

Because early intervention is mandated by Part C of the Individuals and Disabilities Education Act, the New York City Department of Health and Mental Hygiene (DOHMH) oversees 90 early intervention agencies that employ about 6,000 professionals—from physical and speech therapists, to psychologists, to early educators—who serve approximately 31,000 children, at an annual cost of over $400 million.

The new program—the only of its kind in New York—offers an 18-credit advanced certificate in early intervention for practitioners without a degree, and an 18-credit master's for those professionals already working for agencies. Master's candidates will also need to fulfill a 280-hour of supervised fieldwork with infants.

"Typically, caregiving professionals working for early intervention agencies serve a linguistically and culturally diverse population of infants with disabilities in the city's high-need neighborhoods," explains Shannon, whose research and clinical experience is focused on early intervention. "While early childhood education's emphasis is on cognition, this new program focuses on developmental and physical health, and the child's ability to socialize."

According to Associate Professor Mary DeBey, who served as a board member of the NYC Bureau of Early Intervention for 10 years, while current interventionists may be degree-holding professionals in occupational and physical therapy, or in speech and language pathology, it doesn't mean they have the knowledge required to work with infants, toddlers, and their families.

"Not to mention some of the language skills to deal with this sensitive population under this new approach," DeBey says. "And many families are getting multiple, sometimes repetitive, services so there is room to streamline services, too."

Aware of the change from strictly child-oriented to a family-oriented template, the DOHMH decided to establish a partnership with Shannon's department in 2014 to design an early intervention program that could train educators and various other professionals and specialists who work for the agencies, in a more trans-disciplinary and family-centered approach. The program will not only provide educators and specialists with the opportunity to get an advanced certificate or a master's degree as early interventionists but it will work with other colleges, and may soon become a template for other programs.

"Our department is very well positioned to lead this certificate program because, on the one hand, we have a diverse student population who come from second-languages homes that possess the cultural sensitivity required for this job," says DeBey. "On the other hand, we have a multidisciplinary faculty that includes developmental psychologists, speech and physical therapists, and art educators to train the new workforce. It's a great match."

The same will apply to children in homeless centers and in foster care, who are in dire need of assistance. According to the NYS Babies Can't Wait Initiative, the number of children living in homeless centers increased by eight percent to nearly 23,000 in 2013 in New York City.

"We will work closely with the agencies to establish fieldwork places with them, which would allow us to work with their existing workforce—who are encouraged to take our advanced certificate or the master's program—and bring new people, including our undergraduates, to work with those populations," says Shannon. "So we're helping agencies to upgrade their workforce, and we're preparing new early interventionists that agencies can hire in the future."

And because the agreement with the DOHMH requires students of the program to work with other public higher education institutions, so that they might adopt this new approach, the Brooklyn College program may well become a model for others.





Back to BC News