Naylor's work explored the many dimensions of race and social issues in American society. 
/web/new_2016news/GloriaNaylor_94x84.jpeg
Critically Acclaimed Writer and Celebrated Alumna Gloria Naylor '81 Dies at the Age of 66
October 4, 2016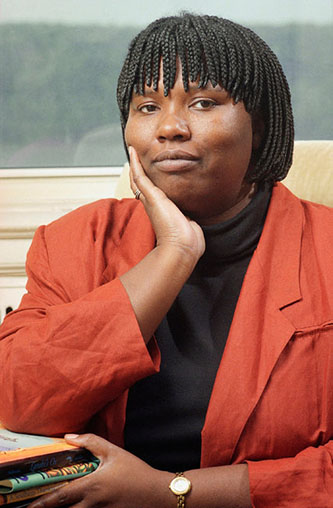 Gloria Naylor '81, celebrated author, beloved alumna, native New Yorker, and supporter of Brooklyn College, died of a heart attack on September 28 near her home in Christiansted, Virgin Islands. She was 66.
"The Brooklyn College community is saddened to learn of the passing of Gloria Naylor," said President Michelle J. Anderson. "Naylor was a critically acclaimed author whose work illustrated many dimensions of the African American experience through compelling and relevant characters. Naylor's exceptional work enriched the American literary canon."
Naylor was a standout student during her time at Brooklyn College. She earned the Presidential Scholarship, served as treasurer of the student government, and graduated summa cum laude. She penned her first novel, The Women of Brewster Place (Penguin Contemporary American Fiction Series, 1982), while still an undergraduate English major. 
Former English professor Rick Pearse helped advise Naylor, who wrote the book during an independent studies class.
"The untimely passing of Naylor was a shock to all of us who knew her," said Pearse. "As one who worked with her on The Women of Brewster Place, I came to have great respect for her talent and dedication, and to value her as a person. Our loss of her is a sad event."
Brewster Place would go on to critical acclaim, winning both the American Book Award and the National Book Award for First Novel in 1983. It was later turned into a mini series by Oprah Winfrey's production company, Harpo Productions in 1989. Her career was notable for a number of other acclaimed novels, including Mama Day (Vintage, 1989) and Bailey's Cafe (Vintage, 1993). She also wrote non-fiction for magazines and journals. 
She earned a master's degree in Afro-American studies at Yale University and received prestigious fellowships from the National Endowment for the Arts, the Guggenheim, and the New York Foundation for the Arts.
Naylor taught at a number of universities in the United States and abroad, including George Washington, New York, Boston and Princeton universities, the University of Pennsylvania, and the University of Kent in England.
In 1989, she established the McAlpin-Naylor Book Fund to support the Brooklyn College Library in strengthening its collections in Africana studies and Caribbean studies.
Brooklyn College awarded Naylor the Presidential Medal at its 1993 commencement ceremony in recognition of her literary excellence, her commitment to education, and her support for the college. She also received a 2002 Distinguished Achievement Award from the Brooklyn College Alumni Association. 
Back to BC News