Peccerelli is the executive director of the Guatemalan Forensic Anthropology Foundation, which exhumes the mass graves of victims of the Guatemala's 36-year civil war and helps to identify the remains. 
/web/new_2017news/170310b_Peccerelli_94x84.jpg
Forensic Anthropologist Fredy Peccerelli '96 to Receive 2017 Distinguished Alumnus Award at Brooklyn College Commencement Exercises
March 10, 2017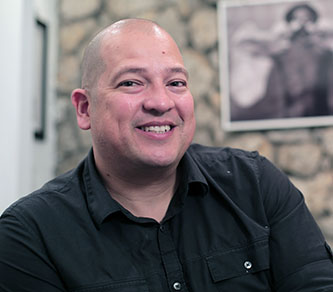 This year's Distinguished Alumnus award will be given to Fredy Peccerelli '96 at the Brooklyn College Commencement Exercises on May 30 at Barclays Center in Brooklyn. Peccerelli is a forensic anthropologist and the executive director and founding member of Guatemalan Forensic Anthropology Foundation (Fundación de Antropología Forense de Guatemala, or FAFG), a non-governmental organization established in 1997 that exhumes the mass graves of victims of the Guatemala's 36-year civil war, and helps to identify the remains. 
The evidence uncovered has helped convict the perpetrators of genocide and crimes against humanity in that country, as well as aided families in locating their dead and missing loved ones. In addition, Peccerelli and the FAFG have collected over 325 interviews from survivors of the Guatemalan conflict. These testimonies have been included in the University of Southern California's Shoah Foundation's Witness Education System.
Born in 1971, Peccerelli and his family fled Guatemala to New York City when they received death threats from government death squads. He attended Brooklyn College, graduating with a B.A. in anthropology, and went on to receive a post-graduate diploma with distinction in forensic and biological anthropology at Bournemouth University in England in 2004. Peccerelli is an affiliate professor for postgraduate masters in forensic sciences at the University of San Carlos of Guatemala. 
Considered one of the top 50 Latin American Leaders for the New Millennium by CNN, Peccerelli, along with the FAFG, has been awarded the 2015 Chancellor Dunning Trust Lecturer from Queens University; a Special Honors Medal from the Canadian Governor General David Johnston; and an Award as a Human Rights Activist from the Abraham Lincoln Brigade Archives and the Puffin Foundation, among other distinctions.
Click here for more information about the 2017 Brooklyn College commencement ceremony, or keep up with us on social media. 
Back to BC News