Beginning this fall, the first Brooklyn College student will travel to South Korea and spend a semester studying at Dongguk University.
/web/new_2017news/Exchange_94x84.jpg
Brooklyn College Enters Into Its First Student Exchange Program With a South Korean University
Jul. 13, 2017
Brooklyn College President Michelle J. Anderson and a team of Brooklyn College students, faculty, staff, and administrators met with a delegation from Dongguk University led by President Tae Sik Han, a Buddhist monk, to formalize a longstanding collaboration between the two institutions and inaugurate a semester-long exchange program. The student exchange program begins fall 2017 and, with departmental permission, students will be able to apply major, minor, and elective toward their degree.
"This is a wonderful academic opportunity," said President Anderson. "For Brooklyn College students, it provides a chance to enhance cultural competency and directly engage in a new kind of learning in a new environment that will broaden their perspectives and give them the sought-after experiences and skills that will make them stand out in the marketplace."
Anderson also noted that Dongguk University students will have the benefit of coming to Brooklyn College to learn on the beautiful 30-acre campus, with state-of-the-art facilities. She added that the campus is, in many ways, a microcosm of the world itself. With over 100 languages spoken by students who come from more than 140 countries, from all across the political spectrum, practicing or not practicing dozens of religions, Brooklyn College is one of the most diverse institutions of higher learning in the world.
In previous years, Brooklyn College students traveled to Dongguk Univeristy for study in the Media Production and Cultural Studies in South Korea Program led by Program Director and Adjunct Associate Professor Young Cheong '00 M.F.A. from the Department of Television and Radio.
Biology major and Brooklyn College Korean Culture Club member Franclessa Louis is participating in the South Korea study abroad program for the second time. Louis—who, prompted by her love of Korean popular music (K-pop), has spent the last eight years teaching herself the Korean language—was one of the students who greeted the Dongguk delegation and was very excited to be able to speak with President Han in his native tongue.
"It was amazing," Louis said. "These opportunities—meeting the delegation and studying abroad—open my eyes about the world and what is possible to accomplish in it. You would think that biology has nothing to do with media production, for example, but I learned that I can make it so. This year, I have an internship with a dentist and one of the things that I'm going to do is create a video project about dentistry and dental health in the United States using all the skills I gained during my time studying in Korea."
The semester exchange program between Dongguk University and Brooklyn College was developed after the success of the summer program, which is in its fourth year.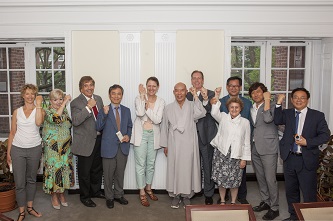 The new semester exchange program is the culmination of a great deal of goodwill, hard work, and dedication on the part of both institutions to provide a rigorous and well-rounded, but also enjoyable, education to students. At Dongguk University, Brooklyn College students can study many subjects in English, including global management, criminal justice, Korean culture  and Buddhist studies.

"There are sometimes difficulties in getting Brooklyn College students to go abroad for study, for a number of reasons, including financial restrictions and global political concerns." said Gail Bier, senior director of International Education and Global Engagement. Students whose economic situations would not allow for them to pay out of pocket the full price for a study abroad have a number of financial aid, scholarship, and award options to help them with program costs. And Bier says that the efforts behind overcoming these hurdles are their own reward because the benefits gained by studying abroad are vital.
"The value of cultural competency cannot be underestimated," she said. "For a student to be able to say to a potential employer that they spent time studying in another country, it demonstrates that they are proficient in working with people very different from themselves, in environments very different from ones they are accustomed to, that they are able to communicate across challenges, and are open to expanding their worldview. This gives them the edge needed to stand out amongst other candidates."
Dongguk University Delegation
Dr. Tae Sik Han, President
Dr. Kwan Jeh, Lee Vice-President for External Affairs
Dr. Jong Tae Rhee, Dean of Office of International Affairs
Mr. Je Sun Ko, Director of President's Office
Brooklyn College Delegation
Michelle J. Anderson, President
William A. Tramontano, Provost, Vice President of Academic Affairs
Lillian O'Reilly, Vice President Enrollment Management
Stuart MacLelland, Associate Provost for Academic Programs
Katherine G. Fry, Professor and Chair of the Department of Television and Radio
Young Cheong, Adjunct Associate Professor, Education Coordinator for New Media and Digital Technology, Program Director of the CUNY Study Abroad in South Korea Program
Gail Bier, Senior Director of International Education and Global Engagement
Raven Wilson, student in the Brooklyn College Korean Culture Club, and past and future participant in the Media Arts and Cultural Studies Program in South Korea and the student exchange program

Back to BC News