Essowe Tchalim '15 scored a coveted role at Droga5, one of the top ad agencies in the world, and credits his education in the Department of Classics for giving him the knowledge, tools, and resources to achieve his goals.
/web/new_2017news/Essowe_94x84.jpg
A Classics Man
Aug. 14, 2017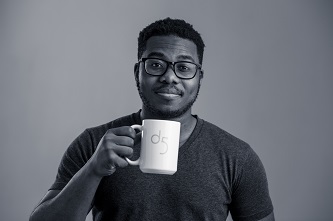 How did a recent Brooklyn College graduate with a B.A. in classics secure a position at Droga5, one of the top advertising agencies in the world? And what does the study of Greco-Roman antiquity have to do with advertising? Essowe Tchalim '15 has answers.
Tchalim—a native of Lomé, Togo in West Africa, who came to the United States with his family when he was six years old—joined the Droga5 staff as broadcast production intern. He is now an associate broadcast producer for the award-winning ad agency, whose clientele includes Android, CoverGirl, Google, The New York Times, and Sprint, among many others.
"The classics center on studying the art, literature, and politics of ancient civilizations to deconstruct and understand their culture as best we can," said Tchalim, who minored in English. "Good advertising demands that type of understanding for the present-day culture, as the industry rests on how well one can tap into the core values, concerns and desires that people share. After you spend years analyzing cultural constructs and behaviors of long-dead civilizations by studying their ruins and fragmented literature, you excel at dissecting a more modern, more familiar civilization such as your own; and that skill is very valuable in a creative advertising agency."
Tchalim began his academic career as a student at New York University's Tandon School of Engineering (formerly New York University Polytechnic School of Engineering), where he studied biomolecular science. But he soon realized that he was passionate about the humanities, and that Brooklyn College could offer him the same rigorous education as NYU, but at a fraction of the cost.
"Essowe did exactly what a college student should do," said Assistant Professor Brian P. Sowers of the Department of Classics. "He studied things he was deeply passionate about and he augmented that study with experiences that would get him the type of work he was seeking. When the folks at Droga5 saw this, they weren't just looking at his humanities degree—a degree they want candidates to possess because it signals well-roundedness and superior communication skills; they were looking for someone who had the real-world, practical experience through the internships and part-time jobs that Essowe had designed for himself very carefully."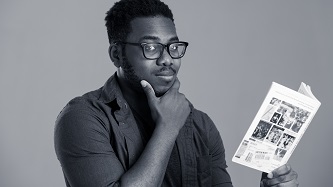 The Department of Classics distinguishes itself by working very closely with its students to ensure that their success translates beyond the borders of the Brooklyn College campus. Faculty members utilize their relationships with alumni and other power brokers to help students get their foot in the door at some of the most well-known companies in the world. And the classics students, who commit to learning to read and write Greek or Latin, excel in whatever industry they enter, bolstering the reputation of both the college and the Classics Department as a site for qualified candidates.
And that is because classics, as taught at Brooklyn College, is a broader area of study than it is often perceived to be. "The ancient Mediterranean isn't just Europe," Sowers said. "It also includes North Africa and vast amounts of land that we now call Asia. In the ancient world, these were part of this larger cohesive group, mainly because they were connected by one sea. This group was diverse, composed of at least 50 percent women, if not more; people who weren't Greek or Latin speakers; people of a variety of colors and ethnicities. Unfortunately, the literary record that survives tends to be dominated by male aristocratic authors. And so that skews the perspective of the ancient experience."
With this understanding, contemporary classicists are exploring the field much more holistically, engaging in research that focuses on, for example, ancient sexuality, uncovering that the binary, heteronormative modes of sexuality that are considered the standard today were only one of many acceptable expressions of such in ancient times. There is also an emerging field within classical study which has gathered significant evidence in support of the idea that ancient Greeks and Romans did not view themselves as white, in terms of racial construction, and that this categorization comes much later, when Enlightenment-period historians projected the identity onto them. Scholarship approached from this broader point of view helped Tchalim feel highly prepared to embark on any number of career paths and achieve his goals.
"I'm very grateful to have had as good an education as I did," says Tchalim. "My professors encouraged me to do more than just what was expected of me and instilled in me a good work ethic. I never thought I'd say this, but the piles of homework I had in undergrad helped prepare me for the work I have now in my current job."
Back to BC News