A new intensive summer program shows students how to use media to channel their activist voices.
/web/new_2017news/Damasstudents_94x84.jpg
Power to the Production
Aug. 29, 2017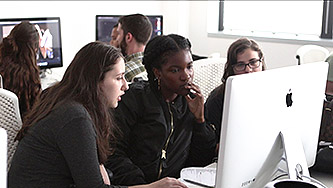 On a mid-summer Monday afternoon, students Angelica Goldberg, Séun Olukanni, and Sara Schwartz huddle in a 6th floor soundstage in the Barry R. Feirstein Graduate School of Cinema's facilities located at Steiner Studios in the Brooklyn Navy Yard.
It's shoot day for their big project for the Diversity and Media Access Summer Program. The students have just gotten their camera after having to negotiate with other students who had checked out equipment. They're dealing with an uncooperative screw on the tripod, toying with the memory card, and trying to find the sweet spot to place their zoom recorder microphone—all while being extra careful because the cheapest piece of equipment they're using is valued at about $200.
"One of the best things about this class was that there was no experience necessary," says Schwartz, a sophomore majoring in English. "But that gets tricky when we have to deal with the equipment."
Most of the 10 undergraduate students enrolled in this new summer program have little to no production credits under their belt, yet they're given one month to produce a visual, sound, or web-based media project around the themes of diversity, inclusion, and access. Students earn nine credits attending classes on media literacy, the history and theory of activism, and production and post-production from Monday through Thursday, 10 a.m. to 5 p.m at Feirstein's top-of-the line, 68-000-square-foot facilities, which includes four sound stages and motion capture, animation, and editing studios.
The program is a collaboration of the Film, Television and Radio, and Art departments. Professors Kara Andersen, Charles Haine, and MJ Robinson jointly designed the curriculum. Undergraduate film Chair Alexandra Juhasz says that all majors are encouraged to apply, part of an effort to diversify the perspectives in the room and show students of all stripes that media can provide a powerful outlet for their activism.
"What we want to impart is that all citizens and students have a voice and the ability to express what they believe in using media," says Juhasz, herself an activist who has produced a variety of films and documentaries.
The final projects—all showcased at a screening at Feirstein on the final day of class—included documentary-style coverage of a protest of a speech given by U.S Attorney General Jeff Sessions (for which the students traveled to Philadelphia), a personal exploration of raising bi-racial kids, and an animated piece about not fitting in with the masses.
"Our students have special access to stories that others might not see," says Haine, who teaches post-production at Feirstein and has founded an Academy Award-nominated production company, Dirty Robber.
Television and radio senior Olukanni had for years ruminated on the issue of colorism, the idea of discrimination and even self-hate based on the complexion of one's skin. A dark-skinned African-American woman, she says she used to face insecurity around her skin tone and has since learned to love it.
"It's an issue that's not talked about enough," says Olukanni. "There's a whole dark-skinned girl movement happening on Instagram. But many guys haven't come to terms with it." She thought she'd do a podcast, a medium Haine discouraged only because her topic begged for visuals, but she was a bit hesitant around the technical skills she'd need to pull off a video.
Meanwhile Schwartz and Goldberg, a junior screenwriting major, had written a paper on the lack of beauty and skin-care products for people of color so they had some interest in the issue. Goldberg had some familiarity with a camera. And thus the trio came together.
This particular overcast afternoon is their only shot to get all their footage because their projects are due at the end of the week and they still need to save time for editing, when they plan to tediously splice together countless clips of women—friends they recruited to help out—reading lines from a poem on black skin that the ladies collectively authored.
"I want you to get a little angry at this point," Goldberg directs a soft-spoken young woman who reads lines from the poem in front of the camera. "It's about confrontation so don't be afraid to be confrontational with the camera."
"In three, two," Olukanni's voice trails off from behind the camera.
"Or do you not think I'm black enough?" the young woman in front of the camera says, this time with more attitude.
Schwartz, who has been sitting with the microphone braced on her knee, jumps up and takes a look at the footage. "Oh my gosh, that looks sooooo good," she says, doing a little dance.
Moments later, Haine, making his rounds, comes to check in on the ladies. Seeing that they have pulled a long white table and placed it on its side across from the window in an effort to reflect more light onto their subjects' faces—a trick he just taught them last week during a lesson on lighting—elicits a smile from their professor.
"This makes me so proud," he squeals excitedly, before checking out their work. "Looks awesome. Well done guys."
Back to BC News