Four team members share their experiences and processes as poets, and talk about the responsibility of artists to critique the world around them through their art.
/web/new_2018news/BC_Slam_Team_01_94x84.jpg
Award-winning Brooklyn College Slam Poetry Team in the Spotlight for National Poetry Month
Apr. 12, 2018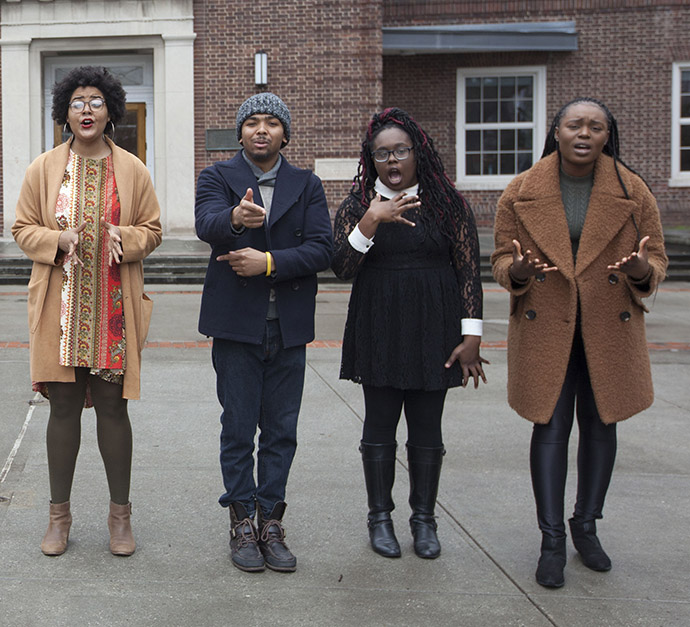 Having consistently placed in the top three in the College Union Poetry Slam Invitational (CUPSI) since 2013, with awards for Best Group Piece and Best Writing by a Team in the Nerd Slam category, the Brooklyn College Slam Poetry Team is considered one of the top in the nation. Founded in 2011 by Joel Cruz '14 and Cliff I. Drouillard '13, the slam team is part of a rich tradition at the college that has produced award-winning poets Jack Agueros '64, Sapphire '95 M.F.A., Gracie Leavitt '11, and Ocean Vuong '12, and includes such noted past faculty members as John Ashbery and Allen Ginsberg, and current professors Julie Agoos and Ben Lerner.
In the spirit of National Poetry Month, we recently spoke to members of the Brooklyn College Slam Poetry Team about their inspiration, creative processes, future plans, and lives as poets.
Jared Green
A self-described Bajan Yankee (born in Brooklyn to Barbadian parents), Jared Green, made the decision to attend Brooklyn College because of the slam team's reputation and because, he says, "BC's education program is phenomenal."
The English secondary education major and slam team president was drawn to poetry when his eighth-grade teacher played a video of a poem called "Poetic Bloodlines" by Gemineye.
Says Green, "Poetry reflects the time we are in and makes this ugly look beautiful. And this is very important because even in the previous movements, poets used their platforms to create art that was intentionally controversial to reach and move people." Still, he acknowledges that it's somewhat rare to live off one's work as a poet and is pursuing his degree in education. "I love kids, and teaching will provide me a space to create and provide for myself at the same time."
Green is very protective of the art form and wants to ensure that poets are not exploited. "Never do shows that ask you to pay to perform your own work," he says. "Remember to be honest in your work. Don't aim to be dope; aim to be honest."
Khadjiah Johnson
"I was planning to be a vet because I'm passionate about animals," says Brooklyn native Khadjiah Johnson '18. But "when I was in high school I joined Urban Word NYC," a non-profit organization that has been mentoring New York City youth in the literary arts since its founding in 1999. It was through Urban Word that Johnson began to write poetry. "I was hella dramatic," she says. "My parents would ask if it was really necessary. Yes, it was necessary. I love writing and performing and let's mix them together. Poetry is my perfect time to be dramatic and I get to create my own work."
By the time she came to Brooklyn College, Johnson had decided to become and English major, and joined the two-year old slam team. "We have had amazing poets on our team Katherine George '16, who is in Urban Word, and studying theater and women's and gender studies; Sean DesVisgnes '15, our 2016 official coach; and Joel Francois '17, who was great with the writing process and became a member of the Nuyorican Poets Café slam team."
Johnson chose television and radio as her minor and says, "I wanted to, over time, go from performance into television writing, specifically for late night television." It happened sooner than she thought when, last year, she landed an internship at the Late Show with Stephen Colbert. "I did production. Stage runs. Handled talent. Transcribed interviews. It was a lot of hard work but I saw how the head writers got to where they were. I also see how hard it is to step into that career. Johnson did get to join some writing sessions and made strong connections while working on the show. "Now I'm on their writer's list," she says.
In regard to the poetic art form, Johnson notes: "Poets and writers and artists have a duty to understand what's going on around them. We need to understand that people need to step out of themselves. There are different ways to narrate what's going on in various emotions. Happy, fearful. Do your art to the best of your ability. Be true to the emotion and what's really happening."
Soré Agbaje
Soré Agbaje chose to attend Brooklyn College solely because of its slam team. "I knew I wanted my college experience to include my passion for poetry and was told about its top-ranking in the spoken word poetry community. Also, I wanted to be a part of the BC community, known for its civically engaged and artistic student body."
The 22-year old Nigerian-American political science major saw her first spoken word video—that of poet Alicia Howard, who performed a poem about a toxic relationship. "It spoke to broader sociopolitical issues, like the inherent inequalities and dangers women face in romantic partnerships," says Agbaje. "It blew me away. I didn't know a poem could be like that. That it could be emotive, and you could get angry in a poem and say whatever you wanted. That night, I attempted my first spoken word poem."
Riffing on the African proverb, "Until the lion learns to write, every story will glorify the hunter," Agbaje says that poetry can bring visibility and uphold the personal narrative of "othered" communities. "Taking the personal into politics and vice versa is a huge aspect of my process as well. I write to remember, and so a lot of my poems are written in the style of a memory; especially if it's commissioned work. I tend to do a lot of research on the topic before I write about it."
Agbaje believes that poets are equipped with a particular set of skills that can be used beyond that of literary aspirations and credits poetry for her internship at NBC. "As a poet you learn how to communicate ideas and convince an audience in a short and concise way that still leaves an impact. This can translate into careers in a copy editing, content creation, advertising, and more."
Agbaje has a few words of wisdom for aspiring slam poets. "Don't slam too much. Don't," she says. "When you start becoming a little bit more successful with your craft, try to keep some things to yourself. Don't fall into the trap that often happens when poetry becomes a career, of only writing when a slam is coming or when an event is coming or when you're being paid for it. It's easy for a poet to fall into a depression that way because it is no longer yours. It is now a commodified entity."
Jenna Carter-Johnson
Senior Jenna Carter-Johnson lives in Harlem with her grandmother while she attends Brooklyn College. Born in New York City, the women and gender studies major moved north to Newburgh, New York, from the third grade through high school. In junior high, she was introduced to slam poetry through a workshop led by noted slam poet and rapper Saul Williams, a native of the upstate city.
Carter-Johnson found herself back in Harlem after being accepted to Brooklyn College. As a key member of the slam team, she is very much about the stage. "Slam poetry is very performative. You're performing your trauma all the time," she says. "You want people to snap, you want people to feel, so you're picking the most traumatic things to write about. A lot of times I feel like I go back on things I should have left, but you know it's going to get you a '10,' so you perform it. Then I remember why I started writing in the first place and it was to get all my thoughts and emotions out."
Poetry figures large in Carter-Johnson's life, which, for her, emphasizes that it plays an important role in the world. "It is political. It reminds us to feel and that politics extends beyond statistics, that there are people behind all of it. Poetry is a tool to explain things."
Asked if she has any advice for fellow artists, Carter-Johnson shares: "Figure out what you love and find somebody to pay you to do it. As long as people are still feeling emotions, there will always be an audience. There's money if you look for it. It's out there. Keep writing. Remember why you started writing. You're writing for you and not other people."
Back to BC News