Remembering his roots and connection to the borough, Sanders chose his alma mater as the first stop on his campaign paper trail.
/web/new_2019news/190302_Bernie_Sanders_Presidental_Rally_94x84.jpg
Alumnus Bernie Sanders Holds Presidential 2020 Campaign Rally on Brooklyn College Campus
March 2, 2019
Remembering his roots and connection to the borough, Sanders chose his alma mater as the first stop on his campaign paper trail.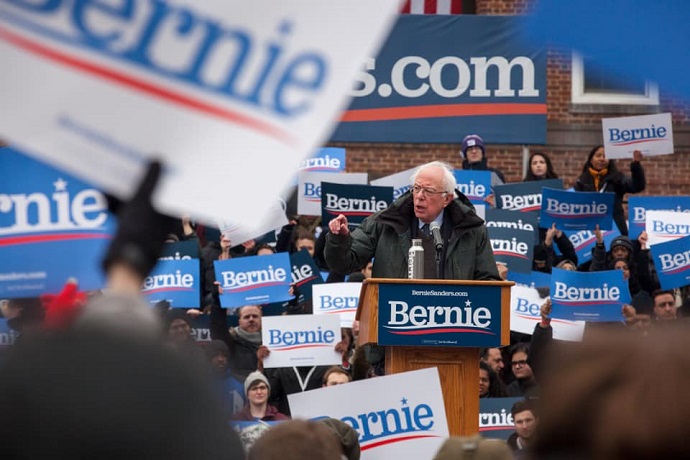 Huge crowds turned out as U.S. Senator Bernie Sanders (I-VT) returned to the Brooklyn College campus on March 2 to announce his second run for president of the United States. He sought the Democratic nomination in 2016, where he came in second to former Secretary of State and U.S. Senator Hillary Rodham Clinton. For his latest campaign, Sanders chose the college as the first stop, returning to his Brooklyn roots and re-establishing his connection to the thriving borough.
"Today, here at Brooklyn College, we say to young people all over the country, we want you to get the best education you can, regardless of your income," said Sanders. "Good jobs require a good education, and that is why we are going to make public colleges and universities tuition-free, and why we are going to substantially lower the outrageous level of student debt in this country. . . . We are going to invest in jobs and education for our young people.
"Today, we say to the American people, that instead of demonizing the undocumented people in this country, we are going to pass comprehensive immigration reform and provide a path toward citizenship. We're going to provide legal status to the 1.8 million young people eligible for the DACA program and develop a humane border policy for those who seek asylum."
After graduating from high school in 1959, Sanders enrolled at Brooklyn College. It was here that he was introduced to the school's vigorous political culture, occasionally joining his older brother, Lawrence (Larry) Sanders '56, a leader in student government, at campus meetings of the college's Young Democrats. In 1960, Sanders transferred to the University of Chicago, where his lifelong career as an activist for civil rights and progressive causes began, first as a student organizer for the Student Nonviolent Coordinating Committee (SNCC) and then with the Congress of Racial Equality (CORE).
As a U.S. Senator from Vermont, this is Bernie Sanders' third public visit to Brooklyn College. In 2016, he filmed a commercial for his presidential run on campus, directed by Brooklyn's own Spike Lee. In 2017, Sanders attended the Brooklyn College Commencement Ceremony where the college awarded him an Honorary Doctor of Humane Letters for his visionary approach to higher education, dedication to civic welfare, and commitment to equality.
"We are happy to welcome Senator Sanders back to his home campus for the kick-off to his presidential campaign," said Brooklyn College President Michelle J. Anderson. "Brooklyn College has a strong tradition of educating students who are civic-minded, and we are deeply proud of and grateful to all our alums who seek to serve their communities and make the world a better place."
A full recap of the event, including video and additional photos, can be viewed at Brooklyn College's official Facebook, Instagram, and Twitter accounts.

Back to BC News