The veteran entertainer will receive the award in honor of his artistic career, activism, humanitarian work, and for representing the absolute best of his alma mater.
/web/new_2019news/Smits_94x84.jpg
Award-winning Actor Jimmy Smits to Receive the Distinguished Alumnus Award at the 2019 Brooklyn College Commencement Ceremony
Apr. 17, 2019
The veteran entertainer will receive the award in honor of his artistic career, activism, humanitarian work, and for representing the absolute best of his alma mater.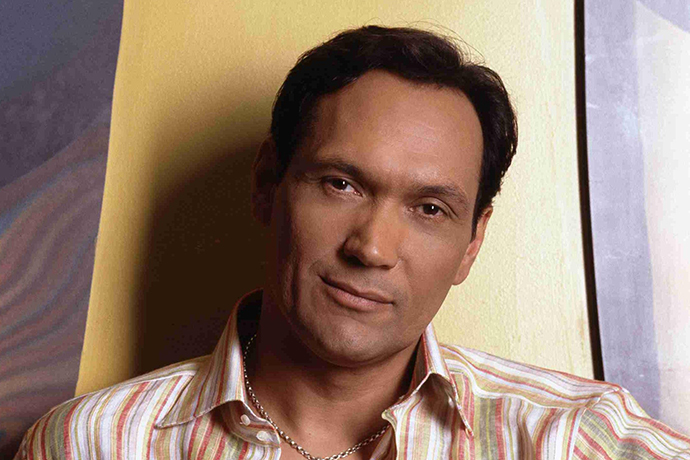 Jimmy Smits '80—Emmy and Golden Globe award-winning actor, activist, philanthropist, producer, and entrepreneur whose outstanding career spans more than three decades—will be the recipient of the Distinguished Alumnus Award at the 2019 Brooklyn College Commencement Ceremony to be held at the Barclays Center on May 30.
Smits has starred in some of the most popular films, plays, and television shows in history, including films in the Star Wars franchise, Anna in the Tropics, L.A. Law, NYPD Blue, The West Wing, and Sons of Anarchy. 
"We are pleased to welcome Jimmy Smits back to his college home," says Brooklyn College President Michelle J. Anderson. "His life as an award-winning artist, humanitarian, and entrepreneur exemplifies the best and brightest of the Brooklyn College experience. He embodies our mission, and is the quintessential example of a leader transforming their fields and professions, and serving our increasingly global community."
Smits was born in Manhattan and raised in the Bronx and Brooklyn. He is one of three children of a working-class family, born to a Puerto Rican mother and a Dutch/Surinamese father. Smits spent a great deal of time in Puerto Rico during his childhood.
After graduating from Thomas Jefferson High School, Smits attended Brooklyn College and majored in theater. He remembers the college as a place where he was introduced to the arts, noting that as a high school student, some of the first plays he had ever seen were put on at Whitman Theater. At Brooklyn College, he performed in a number of plays, including Of Mice and Men, Othello, and Everyman. He earned a bachelor of arts in theater from the college in 1980 and went on to earn his master of fine arts in theater from Cornell University in 1982.
Smits' first big network television role was in 1984 on the hit NBC series Miami Vice. His big-screen debut came two years later in the Gregory Hines/Billy Crystal film Running Scared. Soon after, Smits landed a starring role on the hit NBC show L.A. Law, for which he received seven Emmy Award nominations, winning in 1990 for Outstanding Supporting Actor in a Drama Series. It was also a symbolic role as it was one of the first hit American dramas to feature a Latino actor in a central, multidimensional role, which inspired a generation of Latinos to attend law school.
Over the years, Smits would go on to star in dozens of film, television, and theatrical productions, including the hit ABC show NYPD Blue, which earned him five Emmy nominations and a Golden Globe Award for Best Actor–Television Series Drama (the first ever for a Latino), and he shared a Screen Actors Guild Award for Outstanding Performance by an Ensemble in a Drama Series. He also won Outstanding Actor in a Drama Series at the ALMA Awards for his work on NBC's The West Wing, and a Saturn Award for his guest-starring role on Showtime's Dexter—which also garnered him his 12th Emmy nomination.
Smits is perhaps best known to millennials for the following roles: Senator Bail Organa in Star Wars: Episode II – Attack of the Clones, Star Wars: Episode III – Revenge of the Sith, and Rogue One: A Star Wars Story; Neron "Nero" Padilla on FX's Sons of Anarchy; John Donovan on FOX's 24: Legacy; Dr. Isaac Roa on ABC's How to Get Away With Murder; and Francisco "Papa Fuerte" Cruz on Netflix's The Get Down. He also does voiceover work, which is featured in well-known video games like Gears of War 4 and Star Wars: The Force Unleashed - Ultimate Sith Edition, among others.
Smits is also a formidable stage actor, having appeared in the Broadway plays God of Carnage and the Pulitzer Prize-winning Anna in the Tropics, as well as Off-Broadway productions like Hamlet, Motherf**ker With the Hat, Much Ado About Nothing, and Twelfth Night.
Next up for Smits will be a role in the upcoming feature film version of the hit Broadway musical In the Heights and he completed filming of a legal drama pilot for NBC.
In addition to his remarkable artistry, Smits is also an activist and humanitarian. He is a co-founder of the National Hispanic Foundation for the Arts, which offers scholarships and advances the presence of Latinos in the media, telecommunications, and entertainment industries, both in front of and behind the camera. In his activism, he is dedicated to peaceful ideals. He is a generous donor and spokesperson for the Red Cross, New York Cares, Stand Up to Cancer, Los Angeles Free Clinic, and St. Jude Hospital for Children.
In 1991, Smits was crowned honorary "King of Brooklyn" at the Welcome Back to Brooklyn Festival. He is the recipient of the 1997 Horizon Award, presented by the Joint Leadership of the United States Congress and the Congressional Award Board of Directors to individuals from the private sectors who have "contributed to expanding opportunities for all Americans through their own personal contributions, and who have set exceptional examples for young people through their successes." He also received the 2016 Ackerman Leadership Award for "championing bilingual and bicultural mental health and social services for Latino families."
An entrepreneur, Smits is an investor in the Los Angeles Latin Music Entertainment venue, The Conga Room, along with Paul Rodriguez, Will.i.am, and Brad Gluckstein.
With a career that spans more than 35 years, Smits has been a pioneering force, breaking down barriers and paving the way for generations of artists from Latino and other communities. And throughout all of his amazing accomplishments, he has never forgotten his roots. He received the 1999 Brooklyn College Alumnus of the Year award, was the emcee of the 2005 Brooklyn College Best of Brooklyn gala, and was a special guest at the same event in 2011. He has also previously returned to the Brooklyn College campus to impart the benefit of his wisdom and industry experience upon the students who will follow in his footsteps.
Past recipients of the Brooklyn College Distinguished Alumnus Award include celebrity agent Don Buchwald '59, former Brooklyn Borough President Marty Markowitz '70, and poet and novelist Sapphire '95 M.F.A. This year's Commencement Ceremony promises to be an exciting event as Smits will be joined by other extraordinary guests, including activist and #MeToo founder Tarana Burke, who will be receiving the 2019 Honorary Doctor of Humane Letters and will give the keynote address.
Back to BC News