The gift will help to ensure the academic momentum of hundreds of students annually.
/web/new_2019news/190417c_Zicklinggroup_94x84.jpg
The Zicklin Family Gives $2.25 Million to Endow Scholarship Fund for Degree Completion
April 17, 2019
The gift will help to ensure the academic momentum of hundreds of students annually.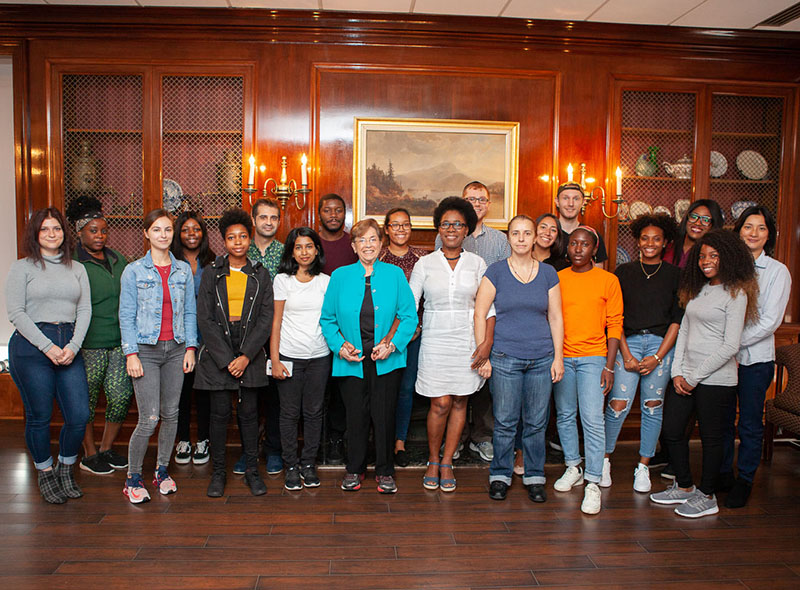 Carol Zicklin's family could not have thought of a better birthday gift. For the occasion, her husband Larry sat down with their children, Yehudit and Eric, and explained that a significant donation to Brooklyn College would make the perfect present: $2,250,000 to permanently endow the Zicklin Scholars Degree Completion Program Fund. The fund will help students whose only barriers to graduating are financial, and who just need a few extra credits to graduate on time.
"Perpetuity is so important. I was worried about what would happen to this program in the future," says Carol L. Zicklin '61. "I was speechless when my family told me what they had done."
"We are deeply grateful to the Zicklins for their commitment to our students and their academic momentum," says Brooklyn College President Michelle J. Anderson. "For many students who need assistance, this fund will allow them to complete their degree without interruption. The Zicklin family has always been interested in making a difference in students' lives, and the impact of their gift cannot be overstated."
After graduating from Brooklyn College in 1961 with a degree in elementary education, Carol taught at an elementary school in Brooklyn, then moved to New Jersey with her husband Larry, where they raised two children. She earned an M.S.Ed. in 1976 from Rutgers University, and Learning Disabilities Teacher Certification from Montclair State University, subsequently working as a learning disabilities consultant and specialist on the elementary, secondary, and college levels. She is a member of the Brooklyn College Foundation Board of Trustees, and serves as its secretary. She also serves on the executive and governance and nominating committees.
Larry Zicklin is a clinical professor at Stern School of Business at New York University where his area of expertise includes corporate governance, business ethics, and finance. He also teaches at Baruch College and was a senior fellow at his graduate school alma mater, the Wharton School of Business at the University of Pennsylvania. Zicklin is the former CEO and chairman of the board of the global asset management firm Neuberger Berman.
The Zicklin's generous past gifts have supported two Zicklin Chairs and the Zicklin Summer Fellows at Brooklyn College, and the Zicklin School of Business at Baruch College. "I am so thrilled to know that the Scholars Degree Completion Program Fund, which I started five years ago, will go on in perpetuity," says Carol Zicklin. "This gift is my big thank you to my alma mater. Without Brooklyn College, my life would not have turned out as it did."
Back to BC News