Two School of Education graduates found their passion in helping students of color who might not otherwise get the push they need to succeed. 
/web/new_2019news/AlexandriaTimollAkeemBarnes94x84.jpg
Alumni Honored as Educators of the Year
June 19, 2019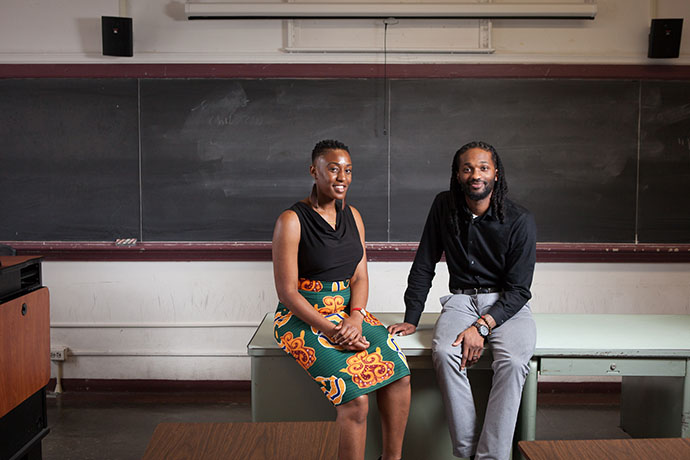 Akeem Barnes '15 and Alexandria Timoll '14 know all too well how life trajectories are set in motion and how opportunities play a huge role. They also know how easy it is—especially for the black and brown kids who grow up where they hail from: East New York and Brownsville, respectively—to head down the wrong path or otherwise miss out on a break that might level the playing field. They both became educators because they knew they could help steer some kids in the right direction.
What they both say they never expected was to be honored for their work. And yet there they both were earlier this week receiving an award for Outstanding Educators of the Year by the publication Education Update. Now in its 17th year, the award honors New York City public school teachers who go the extra mile for their students. CUNY Chancellor Félix Matos Rodríguez was also honored with the publication's Distinguished Leaders in Education award.
"I've learned not to expect the pat on the back," says Timoll, who is currently the dean of curriculum instruction at Leadership Prep Canarsie. "For me, this was shocking. It made me take a moment. It's nice when people notice the hard work that you're doing."
Says Barnes: "When you do this type of work, you don't generally do it for the awards." Still, "It felt like the culmination of everything I've done in the past four years."
Barnes is currently an eighth grade English Language Arts teacher at Brownsville's Riverdale Avenue Middle School. He got his bachelor's degree in English at Brooklyn College and then went on to get a master's degree in Liberal Studies with a focus on urban education at the CUNY Graduate Center. But he's very aware that his life could have gone down another path. He grew up sometimes looking for role models in the wrong places and even had brushes with the law when he was younger. His love of reading motivated him to end up majoring in English when he got to college, and that led him to consider teaching.
"I wanted to help young people that look like me," he says. "If I had someone pushing me when I was younger, I feel like I could have avoided a lot of mistakes. It's sort of like I get to start over."
Barnes does a lot of civic engagement with his students and has taught them to be advocates for their community. For a project this year, his students researched mass incarceration and environmental racism, conducted community surveys, and hosted a town hall with police officers after which, says Barnes, his students took a lot of pride in simply being heard.
"He is a teacher advocate for marginalized and underrepresented students in his classes and empowers them with a voice to stand up for themselves," says Deborah Shanley, a professor of secondary education who nominated Barnes and Timoll for the award.
Timoll earned her undergraduate degree in childhood education and psychology and then also went on the earn her master's degree from the CUNY Graduate Center in liberal studies with a concentration on urban education.
She's quick to site "Ms. Tasher," her third-grade teacher, as the source of her inspiration because she made a connection with Timoll by using the same nickname her parents called her and generally invested in her. Timoll went on to enroll in a program that helped prepare students to compete for New York City's specialized high schools, which got her into the vaunted Brooklyn Tech.
Even back then, it was clear to her that the soft skills and socialization she was receiving—let alone the education—were a world apart from that which her peers were receiving.
"It was the first time I started to question issues of access," she says. "I realized that it wasn't [a] fair [system] and that I wanted to do something to make sure all students have access to a good education."
At her current school, Timoll has helped to turn around academic achievement in reading and math and also launched an annual awards ceremony that celebrates student growth, achievement, and character.
"She has balanced a prioritization of academics and joyful student culture," says Shanley.
Both Barnes and Timoll were participants in the Urban Community Teachers Project, which aims to address some of the gaps in learning experienced by children of color by encouraging more teachers of color to go into the field, and both continue to mentor future teachers in the program.
"Akeem and Alex are both outstanding examples of excellent educators in every way," says April Whatley Bedford, dean of the School of Education. "They also are spectacular representatives of Brooklyn College."
Back to BC News