Eli Joseph '16 went from high school to doctoral program in record time. Now, as a professor himself, he is looking to kindle enthusiasm in STEM careers in his students.
/web/new_2019news/190626_eli_joseph_94x84.jpg
Full "STEM" Ahead
June 26, 2019
Eli Joseph '16 went from high school to doctoral program in record time. Now, as a professor himself, he is looking to kindle enthusiasm in STEM careers in his students.
Inspired by the election of Barack Obama, an 18-year-old Elisee "Eli" Joseph '16 M.S. tackled his academic career with cyclonic force. "I figured if he could become president, I had a chance of becoming successful in my own endeavors with the proper support." A math whiz, Joseph earned a bachelor's degree in mathematics at Queens College, and then enrolled at Brooklyn College, where he earned a master's degree in business administration—all within four short years. Joseph, who is Haitian-American, then went on to become one of the youngest people to earn a Doctorate in Business Administration (D.B.A) at Felician University. Today, at age 25, he is a faculty member at Queens College and has added Columbia University to his list of teaching jobs.
Joseph was selected by Forbes and JPMorgan Chase as a 2018 Forbes Under 30 Scholar. He is also a Grow with Google scholarship recipient, a member of the Grammy Recording Academy (GRAMMYU), a finalist in the Morgan Stanley Quantitative Finance Prize for Excellence, and a TEDx speaker.
He has pursued his goals with equal measures of tenacity and enthusiasm. After a year at Siena College in Loudonville, New York, Joseph transferred to Queens College to play basketball as a student-athlete. By spring 2014, he had switched to the track and field team. At Queens College, Joseph also worked part-time on campus, obtaining special permission to take 30 credits—seven undergraduate classes and three graduate classes—before ultimately graduating in 2015. "It was rigorous," says the Brooklyn native. "I had the moral support from my family—mom, grandmother, brothers, and uncle—but I lived by myself on campus.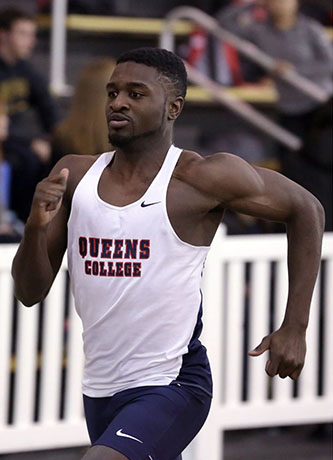 Graduate school was an easy choice for Joseph. "Along with the excellent programs at the [Murray] Koppelman School of Business, it was convenient by subway to Wall Street, where I worked for a mortgage bank." Taking night classes, Joseph earned his M.S. in business administration in one year. "My advisers and mentors—Associate Professor Viju Raghupathi, who taught me business analytics, Myles Bassell, [lecturer and deputy chair in the business management department], and Georgios Koimisis [adjunct lecturer], who taught a course in econometrics—helped me lay the foundation for my decision to pursue a doctorate."
Because Joseph believed that experience in the field was just as crucial to his success as earning a doctorate, he searched for and found a school—Felician University, the Franciscan University of New Jersey—that would allow him to take the majority of his classes online, giving him more flexibility to pursue jobs and internships. "Felician is not a well-known institution," says Joseph, "but I'd rather go to an institution where I have more control and can make more of a personal impact. The school had just started its doctoral program in 2015; I was the first candidate to be accepted and it was made clear that I was paving the way for the other doctoral candidates behind me." His 350-page dissertation is titled The Examination of Investor Sentiment, Weather Patterns, and Stock Returns, which he successfully defended and published, receiving his doctorate degree in business administration.
In January 2017, while he worked at his doctoral degree, Joseph found himself standing in front of a class of undergraduate students at Marymount Manhattan College. He had emailed Professor Vandana Rao, the chair of the Business Department to inquire about any open positions and was told that, as a matter of fact, a finance professor had taken leave of absence for a semester. Joseph was hired as an adjunct to teach business statistics, but when he entered the classroom, the 22-year old encountered more than a little skepticism.
"I wasn't sure we were going to gel. But as we progressed, they became more comfortable with me, but what's more the material I was teaching. I also wanted to provide professional insights, give them real-world context," he says. "Toward the end of the course I worked with them on interview etiquette, resumes, and cover letters so that they had the tools to seek internships during the summer." By August 2017, Joseph was also working as an adjunct economics professor at Queens College.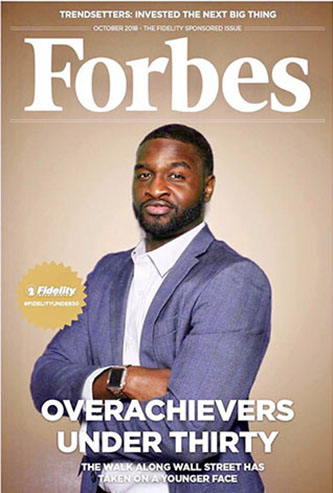 Joseph's academic career had gained momentum, and opportunities outside of academia soon followed. He began consulting as a statistician on quantitative projects for Fortune 500 companies. He was asked to work on a project for pharmaceutical company Pfizer by his research adviser, David Turi, the associate dean of undergraduate business programs at Felician University. He won a Grow with Google computer programming scholarship sponsored by Google and Udacity. He was a finalist in a Quantitative Finance Prize for Excellence sponsored by Morgan Stanley. He enrolled in and passed the Credential of Readiness (CORe) program at the Harvard Business School Online. Last fall he was selected to join the 2018 Forbes Under 30 Scholar Program. Joseph was featured on the cover of a special issue of the magazine with the headline "Overachievers Under 30." The label of overachiever sometimes comes with a negative connotation. He doesn't see himself that way:
"If you want to succeed and you are currently attending a school that is not well-known for its programs, no matter how excellent they are, often you have to do what is perceived as overachieving, on and off campus," says Joseph. He also believes in leaving lasting impressions; it's what helped him get his present job as a faculty associate in the Applied Analytics Department at Columbia University—one of his fellow colleagues at Columbia University served as a dissertation committee member and recommended him for the job.
Joseph measures success by how much a person may evolve in his or her field, or life. His plan is to expand upon the concept of sports analytics in real-life sports, particularly the NBA. But teaching remains at the forefront, his way to reach out to students not that far away in age from him and stoke any spark of enthusiasm for careers in math. "As I teach, I realize that there is a cool factor to analytics that I'd like to use to reach young people. I want to get them immersed in and excited about STEM careers."
Back to BC News