Vuong's works explore the themes of exile and the trauma of war.
/web/new_2019news/190925_Ocean_94x84.jpg
Poet and Fiction Writer Ocean Vuong '12 Awarded the MacArthur 'Genius' Grant
Sept. 25, 2019
Vuong's works explore the themes of exile and the trauma of war.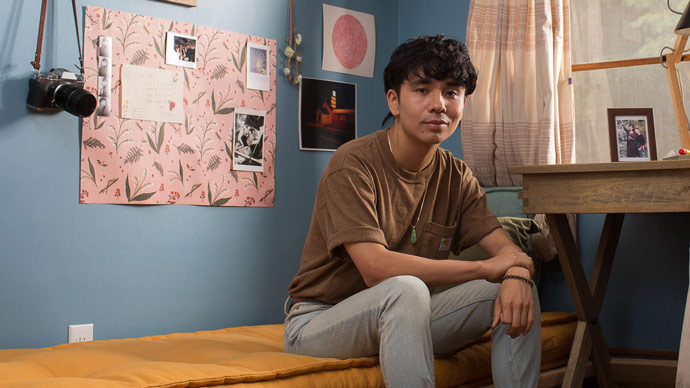 Poet and author Ocean Vuong '12 is among 26 recipients of the 2019 John D. and Catherine T. MacArthur Foundation 'Genius' Grant. The award comes with a grant of $625,000 to be distributed over five years.
Vuong is the author of the poetry collection Night Sky with Exit Wounds (Copper Canyon, 2016) and the novel On Earth We're Briefly Gorgeous (Penguin, 2019). His writing has appeared in numerous publications, including Harvard Review, Kenyon Review, The Nation, Guernica, Poetry Magazine, New Republic, and The New Yorker.
"Once in a while you get a student who's not testing to be a writer, but who is already one," said Brooklyn College English Professor Ben Lerner in 2016 after Vuong received the Whiting Award for emerging writers. "I could sense Ocean was already a writer, eager to be challenged." Lerner received the MacArthur award in 2015.
Among Vuong's other awards are the 2012 Stanley Kunitz Memorial Prize for Younger Poets from The American Poetry Review for his poem "Prayer for the Newly Damned," and the 2013 Pushcart Prize for his poem "Self-Portrait with Exit Wounds." In 2014, he received a $40,000 grant from the Elizabeth George Foundation, which also supports emerging writers of great promise, as well as a Ruth Lilly Fellowship and a Dorothy Sargent Rosenberg Poetry fellowship.
Says Vuong on the MacArthur Foundation website: "Language, like people, can be perpetually in flux. Words are, in a sense, bodies moving from one space to another. Our very cells, too, are always moving. They are just overflowing, and dying, and being reborn. What is seemingly so static is actually constantly in motion. Literature, then, is movement—but it is also the measure of movement in our species' thinking and feeling. To participate in that great migration, as a writer, is the ultimate gift."
Vuong earned a B.A. from Brooklyn College of the City University of New York. Currently, he is an assistant professor in the M.F.A. program for Poets and Writers at the University of Massachusetts, Amherst.
Back to BC News