On #Giving Tuesday we look at our newest alumni and how their idea to leave a class gift to Brooklyn College has inspired members of the graduating class of 2020 to do the same.
/web/new_2019news/191108_Giving_Tuesday_94x84.jpg
Giving in a Class All Its Own
Nov. 8, 2019
On #GivingTuesday we look at our newest alumni and how their idea to leave a class gift to Brooklyn College has inspired members of the graduating class of 2020 to do the same.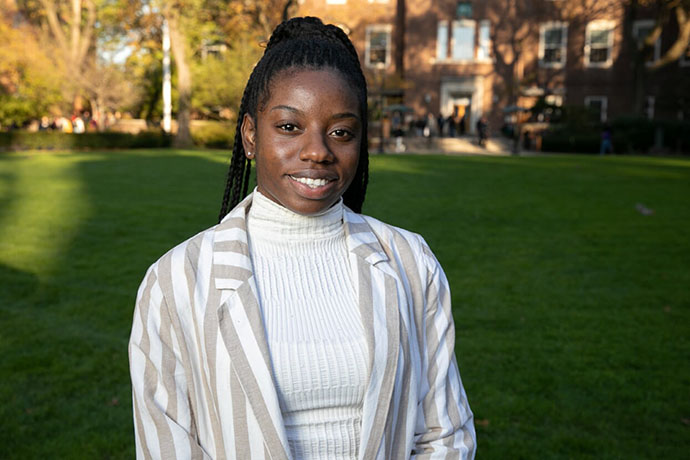 Just a couple of months out from graduation last May, Vanessa Edwards '19, and Tajah Griffiths '19, formed a two-woman committee. They held stake-outs at cap and gown fittings, texted friends, hit up student gatherings, and posted in many of the chat rooms and other social media channels where they knew they could reach their fellow seniors.
They wanted to leave a gift for posterity from the Class of 2019 and there was precious little time before their peers would go on to the next stage of their lives. Edwards and Griffiths had already thrown around some ideas with administrators from the Brooklyn College Foundation and the Office of Student Affairs and settled on soliciting donations for a scholarship that would help students who are short a small amount of money to graduate or register for class.
"We thought, there isn't enough out there for students in those kinds of circumstances," says Edwards, who majored in finance and decided to join the gift committee because she had taken a break from club activities so she could focus on graduating. Still, she wanted to be involved. "There are scholarships for students with good grades and other things, but we thought this could go to those who need help with that outstanding balance from last semester, or even just to pay for a cap and gown."
It's believed to be the first time at Brooklyn College that a graduating class has left a gift and when it was all said and done, they raised just over $1,000, mostly in the form of small-dollar donations. In the process, they inspired the next class of graduating seniors to join a tradition that is common at many colleges and universities across the country and helps to begin the process of engaging the newest crop of alumni
Seniors Xavier Alvarez, Miniola Gustin, and LaClaire Robinson have taken up the charge—this year with the benefit of more time to raise money and an assist from last year's committee. After getting feedback from their classmates in an online survey, this year's gift committee plans to also raise money for a scholarship, this one just for rising seniors. The 2020 Class gift will again pay off small balances that may prevent a student from graduating.
"I'm proud to see that the graduating class of 2020 is continuing in the footsteps of the class of 2019 in leaving its legacy on the campus," says Ronald Jackson, the vice president for student affairs. "This tradition, common among many colleges and universities, leaves an indelible mark on the institution that lasts well past commencement," he adds.
This year's goal is $5,000, and the committee is hoping to get at least 2,500 donors. The graduating class has nearly 4,000 students, and when this year's committee surveyed the seniors, they said that 60 percent of respondents said they were very likely to contribute to the gift, and 40 percent said they would give $10 or more.
"It's exciting that at Brooklyn College we have a chance to have a say in the impact and the legacy this class leaves behind," says Robinson, a student in the CUNY Baccalaureate for Unique and Interdisciplinary Programs who is double majoring in global public health and Asian studies and also heading this year's class gift committee. "For my part, this campus had done a lot for me. This is a great opportunity to give back."
On Tuesday, Dec. 3, Brooklyn College, along with all other City University of New York (CUNY) institutions, is preparing for #GivingTuesday, a global day of giving. This global campaign takes place on the Tuesday following Thanksgiving, and was created to counterbalance the consumerism of "Black Friday" and "Cyber Monday" with a call for philanthropy and community outreach.
Funds raised from Giving Tuesday will go to support the Annual Fund, a vital Brooklyn College Foundation program that is graciously sustained by thousands of donations averaging about $50. Support from the Annual Fund helps the college continue to create a complete and fulfilling college experience by providing the resources needed to immediately respond to the urgent and evolving needs of the students, faculty, and campus.
To learn more about the various donor options available or about the impact that giving has on our students, please visit the Brooklyn College Foundation website.
Back to BC News