The film chair joins a handful of Brooklyn College professors who have received this prestigious title. 
/web/new_2019news/Alexandra_Juhasz_2017_1578_94x84.jpg.jpeg
Alexandra Juhasz Named Distinguished Professor
Dec. 19, 2019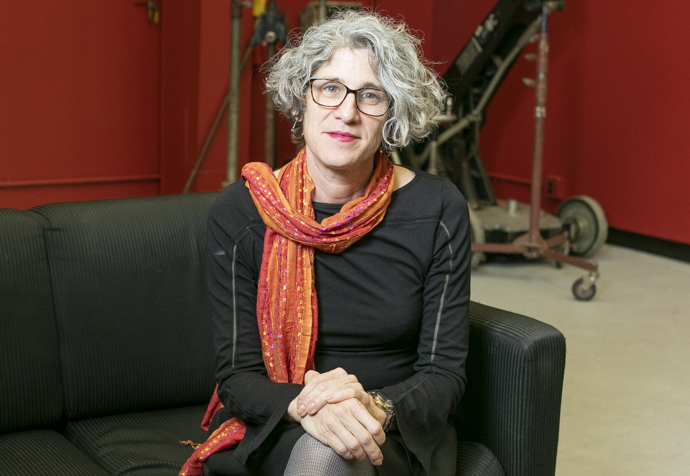 Professor Alexandra Juhasz, chair of the Film Department, was named a CUNY distinguished professor earlier this week by the university's board of trustees. She joins a handful of distinguished professors at the college—and a total of 250 throughout CUNY—whom the university has recognized as internationally acclaimed scholars who have demonstrated exceptional performance, including significant quantities of high-quality work in areas of importance in their discipline.
"For Brooklyn College and CUNY to recognize that my work as a scholar and maker of activist media contributes to the university's larger mission is humbling and empowering," says Juhasz. "I plan to use this support to continue my work: to make, teach, and think about the critical relationships between media, education, and social justice."
The distinguished professorship will begin on January 1, at which time Juhasz will step down as chair of the Film Department. Professor Annette Danto will be the new chair. 
The CUNY board found that Juhasz—perhaps best known for producing the groundbreaking film The Watermelon Woman, the first feature film directed by a black lesbian—has accomplished exceptional creative and scholarly achievement across the four fields of film studies, media studies, feminist media studies, and digital humanities.
Since earning her Ph.D. in cinema studies at New York University, Juhasz has taught at Swarthmore, Bryn Mawr, and Pitzer colleges as well as Claremont Graduate University. Her scholarship has been centered on feminism, AIDS, and the radical uses of new media—she is thought to be the first professor to teach an entire course on YouTube. In 2014, she helmed a $1.5 million Mellon Foundation grant in the digital humanities at the Claremont Colleges. Her work alone and with collectives has also been honored by grants and awards from the Tow Foundation, the Pembroke Center for Teaching and Research on Women, and the Canadian National Research Council, among other distinctions.
Her films and documentaries have been screened at Sundance, Berlin, Toronto, Hong Kong, Créteil, Seoul, and Flaherty international film festivals, and exhibited at the Whitney Biennial, the Guggenheim, the New Museum, and the Museo del Barrio, among other peer-reviewed venues. She has also produced more than a dozen educational documentaries on topics like teenage sexuality and AIDS. Much of her work focuses on bringing film and public intellectualism together.
"I was very proud to join the CUNY faculty and the Brooklyn College community in 2016," she says. "I deeply believe in our mission to ensure a first-rate education for all New Yorkers, regardless of means. And I've been grateful to work with the Film Department to educate the next generation of storytellers and thinkers who represent the best of this diverse city."
Back to BC News