Relief Fund provides $150,000 to support 300 students financially affected by the COVID-19 pandemic.
/web/new_2020news/200723_ISSO_94x84.jpg
Immigrant Student Success Office Receives Boost From Robin Hood
July 23, 2020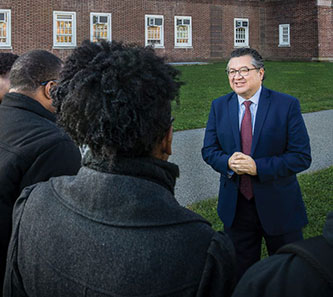 Further expanding the student assistance services provided by its Immigrant Student Success Office (ISSO), Brooklyn College is pleased to announce it has received $150,000 in support from poverty-fighting organization Robin Hood.
The Robin Hood Relief Fund grant provides $500 in emergency assistance to 300 immigrant students at Brooklyn College who have lost low-wage jobs or who have other COVID 19-related emergency expenses, such as food, housing, and technology for remote learning. This aid will further support ISSO's mission to assist immigrant students — those granted Deferred Action for Childhood Arrivals (DACA), who identify with the Development, Relief and Education for Alien Minors Act (DREAMers), certain first-generation and other qualified students — through academic and non-academic means to ensure they graduate on time.
Brooklyn College is a diverse urban institution in the heart of Brooklyn. Students hail from 143 countries and speak more than 90 languages. Out of the 17,179 students in the spring 2019 semester, 2,125 held a citizenship status other than permanent resident or American citizen, making them ISSO's target population. More broadly, The Dream.US, a college access program for DACA students, recently surveyed more than 3,700 scholarship recipients (with a 45 percent response rate) on how the COVID-19 pandemic has affected their ability to continue their college education. The biggest challenges facing Dream.US recipients were found to be job loss and reduced work hours.
ISSO Director Jesús Pérez '95 said the office has helped 360 students so far, and this latest gift from Robin Hood will help many more.
"This pandemic has disproportionately impacted Asian American, black, and Latinx communities, and a majority of our undocumented, DACAmented, and first-generation immigrant students come from the communities most heavily affected," Pérez said. "Given the uncertain times that these students are facing, Brooklyn College is extremely thankful for this incredible support from Robin Hood."
"A college degree increases lifetime earnings by nearly $1 million. For DREAMers and other first-generation students, education is a critical path to economic mobility, but the COVID-19 crisis has upended our economy; many students who rely on a steady paycheck to finance and complete their college education are now imperiled," said Wes Moore, CEO of Robin Hood. "We are proud to be able to step in with emergency cash assistance to ensure that these students can continue to pursue their dreams, earn a college degree, and prepare to be our country's next generation of leaders."
Since being launched in 2019, ISSO has offered faculty mentorship, financial aid advisement, free legal services with assistance from CUNY Citizenship Now!, and personalized counseling. ISSO was established with initial financial support from Brooklyn College Foundation trustee Irwin Federman '56 and his wife, Concepción,
For more information about ISSO, please contact Jesús Pérez via e-mail or at 718.951.5023.
Learn more about ISSO from this feature story in Brooklyn College Magazine.
Back to BC News