A Feirstein professor's unwavering belief in a film he produced helped lead to a Cannes Jury Prize, a Golden Globe nomination, and perhaps this weekend, an Oscar.
/web/new_2019news/Kliot94x85.jpg
Out of Chaos, a Torrent of Awards
Feb. 22, 2019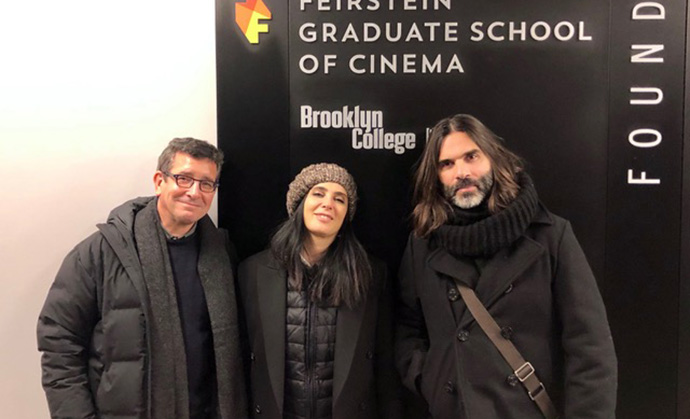 Jason Kliot, a distinguished lecturer at the Barry R. Feirstein Graduate School of Cinema and head of the producing tract, knew what a wonderful project he was working on when he signed on to help produce Capernaum, a foreign film about a young boy who runs away and finds himself roaming the tumultuous streets of Beirut.

Finding money to front the production—only the third for the female director, Nadine Labaki, working with non-actors on an Arabic language film about a depressing topic—was an uphill battle.

"No one really wanted to give me the time of day," says Kliot, whose wife and producing partner Joana Vicente, a member of the Feirstein Advisory Council, also worked on the film.

So when Capernaum (the title is a word that means chaos) not only got into the vaunted Cannes Film Festival but also won its Jury Prize with a 15-minute standing ovation at its screening, then went on to be nominated for a Golden Globe for Best Foreign Film, it was "a series of unbelievably joyful moments," says Kliot.

When he learned the film had been nominated for an Academy Award, he was "over the moon." This weekend, he and Vicente will attend the 91st annual award ceremony for the Academy of Motion Picture Arts and Sciences, where their film will face off against the ballyhooed Roma for Best Foreign Language Film.

"It was a very improbable film to have this kind of success," says Kliot. "I made a lot of movies I believed in that didn't have this kind of success. Believing in a movie and then having the world believe in it the way you do is one of the most satisfying things a producer can ever have."

This is the second time Kliot has been nominated for a golden statuette, and if the film wins, it will mark the second year in a row that a Brooklyn College professor has produced an Oscar-nominated movie. Last year, Howard Rosenman '65, who has taught for a few semesters at Feirstein, produced Call Me By Your Name, which won an Oscar for Best Original Screenplay.
Last semester, Kliot arranged for a screening of Capernaum at Feirstein with Labaki and her husband and producer Khaled Mouzanar, who stayed for a question and answer session.
"They said it was one of the best screenings they ever had," says Kliot. "They felt the excitement and enthusiasm of the students and saw that they connected with the film in a way that other audiences hadn't."
Kliot has produced more than 40 feature films and worked with everyone from acclaimed directors like Brian De Palma and Steven Soderbergh to relative newcomers like Labaki. With Vicente, he has founded three production companies, Blow Up Pictures, Open City Films, and HDNet Films, and is recognized as a leading figure in the digital film revolution.
He has taught in the film programs at both New York and Columbia universities but "fell in love" with Feirstein. "The students are motivated and hungry in a way that you don't get at these other places," he says. "Now I wouldn't want to be anywhere else."
Back to BC News