The double major and advocate for people with disabilities began a career in public service well before graduation.
/web/new_2022news/Nasim_Almuntaser_94x84.jpg
#BCGrad2022: Nasim Almuntaser
May 6, 2022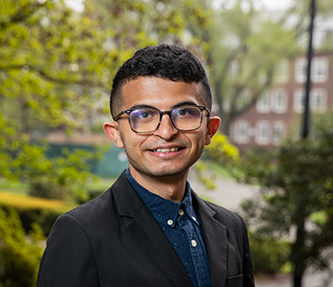 The double major and advocate for people with disabilities began a career in public service well before graduation.
Nasim Almuntaser describes himself as a passionate public servant, educator, activist, and community organizer and has already dedicated much of his undergraduate career to working for organizations that focus on education and public policy.

What is your major and what inspired you to pursue that path?
I am a double major in secondary education and history. I decided to pursue those fields because my entire life has been dedicated to public service. My father was a teacher in Yemen, and when he came to the United States, he did not have access to the credentials to continue his career. As the child of immigrants who did not speak English, I was tasked at a young age with responsibilities, such as translating important documents.
Often kids who are from marginalized backgrounds are written off as statistics; I see education as a way to help change lives for the better. I am currently a substitute teacher for the New York City Department of Education. I chose to pursue a career as a history teacher because I understand the need for history to be taught in a more engaging, more inclusive way than it has been in the past. As an educator, I want to play a role in uplifting the next generation through a message of hope and healing.
Why Brooklyn College?
Brooklyn College was my dream school because of the amazing education program it has. A lot of my own teachers and professors attended the institution. They, along with alums Shirley Chisholm and Bernie Sanders, were all people I looked up to and wanted to emulate.
What are some favorite memories?
My fondest memory is tutoring students in the Center for Student Disability Services. I am a student with a disability myself and found my work as a note-taker for other students very rewarding, because it's a way to provide access to education to a more inclusive student body. I believe anyone can become anything if the resources are there for them. I am also a College Now Ambassador under Program Director Pieranna Pieroni. She and the program were so influential in preparing me for my undergraduate degree. Now I return the favor by assisting high school students with their transition to college.

Is there anything you have accomplished of which you are especially proud?
I was awarded the Myself Third: Spirit of New York Scholarship in 2019, which was established to pay tribute to workers who acted selflessly in the disaster of 9/11. It is given to those who are civically engaged and display a strong sense of citizenship. I was chosen because of my community organizing on campus. When the COVID-19 pandemic hit, I worked to provide PPE equipment to first responders and essential workers. I was given the New York State Senate Proclamation: Community Empowerment Award by Senator Roxanne Persaud for civil service during the pandemic.
I also assisted the New York State public school system during the pandemic. The language barrier faced by many students of immigrant backgrounds led them to be reported to child services for lack of attendance. In fact, the students did not have reliable technology or access to remote learning in their home environment. I supported the outreach to get tablets and computers to students. I was able to help hundreds of families bridge that gap and educate them on resources available. I wrote to President Joe Biden and Vice President Kamala Harris about my perspective on the future of American democracy and received a response from them recognizing my service and leadership.
What are your plans for the future?
I was accepted to a competitive internship program, College to Congress and will be living in Washington, D.C. this summer. The program's mission is to systematically change Congress by empowering a diverse, inclusive, and effective generation of public servants. I'll be working directly with members of Congress and the Senate. All my living expenses will be covered, and I'll be able to focus on learning and making connections in D.C. without the limitations of financial resources. My immediate goal is to become a teacher and, ultimately, I'd like to run for local office. I want to help New Yorkers fight for the voices that have been silenced and pushed to the sidelines for so long.
What is the most valuable lesson gained? Any advice for incoming students?
There are so many exceptional educators at Brooklyn College. My best advice for students is to seek them out and build relationships with them. It's easy to feel like just a number, but they have information and knowledge that can be transformational for your life if you take the initiative to build that connection.
Back to BC News