Journalism and media studies major John Schilling says students must believe in themselves but put in the work to succeed.
/web/new_2022news/2S9A8297_94x84.jpg
#BCGrad2022: John Schilling
May 26, 2022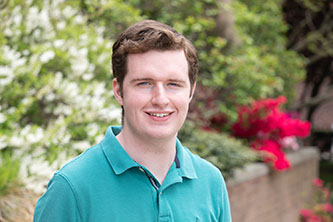 Journalism and media studies major John Schilling says students must believe in themselves but put in the work to succeed.
Even with a head start as a teenage journalist, John Schilling was unsure of his career path. Joining the college newspaper—and the encouragement of family, faculty, and his peers—helped him decide.
What decided you on Brooklyn College?
I'm from Rockaway Park, Queens. My father is actually an alum of Brooklyn College class of 1986. So Brooklyn college has been a part of my life for a long time. Getting to the campus is only a 30- to 45-minute bus ride away. My father was particularly encouraging about me going there because he knew I would get as good an education as he did. And I was fortunate enough to benefit from a scholarship that covered a fair chunk of my tuition expenses. There was no way I could justify going into debt at another college or university when I could get a good education and graduate without debt. It's an opportunity that many people wish for. I knew I had to take advantage of it.
What is your major (and for the record, what was your dad's major)?
I'm a journalism and media studies major and a history minor. My father was a biology major. He became a podiatrist. When I was a junior in high school thinking about applying to colleges, I was looking to get involved with a club to put on my résumé. One day, my English teacher returned a writing assignment that I had submitted and asked me if I would consider joining The Current, the school newspaper. I said, "yes." By the end of my junior year, I had won a high school press award from The Tablet, a Catholic newspaper for the diocese of Brooklyn. I was listed as one of The Current's editors by my senior year ,and won a second award.
When I graduated and headed to Brooklyn College, I still wasn't sure what I wanted to study. Then, at the beginning of my sophomore year, I got involved with The Brooklyn College Vanguard, our campus newspaper, It sort of took off from there with encouragement, mentorship, and support from faculty and peers, and my family. I declared my major right before the pandemic in 2020.
What has your role been at the Vanguard? Any insights into a career in media?

I worked as a staff writer, arts editor, and this year, as managing editor. My coursework, along with working on the paper, has taught me that journalism is about serving a community of people and providing them with information to help them stay civically engaged and hold those in power accountable. It can also be about entertaining people.
What are your favorite memories of Brooklyn College?
My fondest memories will always be the work I did with the Vanguard and the people I met there as well as my journalism and media studies classes and the courses I took in the history department. Four professors who have been especially supportive of me and my course work are Journalism and Media Studies Professors MJ Robinson and Lenn Robbins and History Professors Jocelyn Wills and KC Johnson.
What is your most valuable lesson gained during your time at Brooklyn College?
I would tell incoming students to invest in themselves. It's one thing to believe in yourself and hope for things to happen. But you have to put the work in to get the results you want. I put the work in and it has opened doors for me.
What are your plans for the future after graduation?
I will be attending the Craig Newmark Graduate School of Journalism at CUNY. I'll also continue to work as a reporter for The Wave, a newspaper in Rockaway that I interned for last summer. In July, I will be teaching journalism and creative writing to sixth graders as part of a summer program at my high school alma mater, Cathedral Prep, where I currently work in recruitment and admissions. It's the school where I developed my passion for journalism, so it's a huge full-circle moment for me.
Back to BC News