A graduating Koppelman student knows that numbers are vital in her field of study, but the truth is, following her gut has placed her on the right track.
/web/new_2022news/2S9A8723_94x84.jpg
#BCGrad2022: Elena Ivanov
May 26, 2022
A graduating Koppelman student knows that numbers are vital in her field of study, but the truth is, following her gut has placed her on the right track.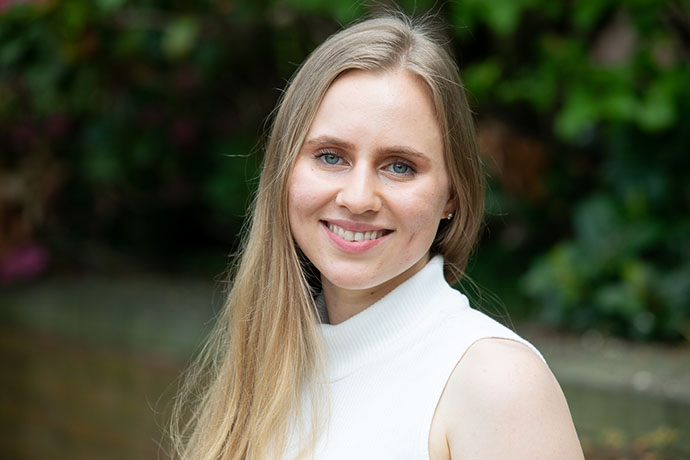 Elena Ivanov, a finance major, learned a lot about herself from her peers, picked up some leadership skills, and did it all without acquiring debt. Now with a post-graduation job already in place, she's positioned for a career with global impact.
When did you know you were in the right major?

I am graduating with a B.B.A. in Finance and a minor in computer science. Choosing a major was not a straight path for me. Although I always knew I wanted to be in a business-related field, it took me some time to figure it out. I changed my major four times. Business administration, economics, information systems, and, finally, finance. After learning about the different fields, I realized that I was consistently interested in valuations and investments, to a point where I was researching topics in the finance field on my own time. I switched my major right before my senior year, and it was the best decision I made in college.
Why did you decide to attend Brooklyn College?

Several things influenced my decision. First, Brooklyn College allowed me to stay in New York City, which is full of opportunities. Brooklyn College also presented a chance for me to get an excellent education without acquiring any debt. What stands out to me the most is that the campus is unique for a city college. The brick buildings, nature, and fountain gave a welcoming feeling.
What experiences changed you?

I attended a summer leadership boot camp in Koppelman where I encountered like-minded peers who were also figuring out college, degrees, and careers. Being there made me realize that I needed to get more involved on campus. The following summer, I joined the Koppelman Student Leadership Council, where I met one of my closest friends and other amazing individuals who helped me grow as a person. As president of the leadership council, I experienced my first leadership role, and while it was challenging, it taught me how to have the right approach when leading a group of diverse people under a shared goal.
How do you relax?

I learned to be more active because my work keeps me stationary for hours. I worked a full-time job while attending school full-time, and did some extracurricular activities, but through it all I realized that I needed to implement some exercise in my daily routine. Activities like attending group workout classes, running, going to the gym, or playing tennis are my "chill pill." They give me some head space. I also love to travel. Whether it's a weekend in a town or city I haven't visited or a long trip to a new country, traveling gives me a break from my daily routine, and that is vital.

What will you do after graduation?

I am starting my career at Ernest and Young. I will be working with them to manage business mergers and acquisitions. I am extremely excited to be working on these projects. This is an opportunity of a lifetime. The clients I will help vary, from smaller businesses to larger corporations. This means my work will impact a local and a global market.
What do you want to tell future graduates of Brooklyn?

Get involved on campus as soon as possible. You can learn so much through extracurricular activities. It is important to learn communication, project management, and leadership skills outside of the classroom. These can help lockdown a job offer. Also, when choosing your major, follow your gut. Find something that excites you or something you do not mind doing in your free time. It is scary, but it can feel so good when you find something that you like.
Back to BC News