A conversation with students reveals the depth and breadth of a course of study created to prepare them to meet the challenges faced in an evolving society.
/web/new_2022news/220608_WGST_94x84.jpg
A Generation of Artists, Activists, and Advocates Are Emerging From the Women's and Gender Studies Program
June 23, 2022
A conversation with students reveals the depth and breadth of a course of study created to prepare them to meet the challenges faced in an evolving society.
In a recent gathering of the Women's and Gender Studies Program, its director Namulundah Florence is effusive with her praise of a student who had been timid to speak up. The student doesn't want to distract her peers from other tragedies like the Russian war on Ukraine, but when she talks, she discusses the plight of child marriages and overall subordination of women globally.
Others join in, evolving the conversation into a deeper dive on various disasters and leading to a group recognition of the root causes: child marriage, poverty, and regime and climate change.
"When you first began to speak," says Florence to the student, "you said, oh no, maybe I shouldn't. But look at the space that has opened up. Look what we would have missed, if you hadn't spoken up!"
Recognizing, negotiating, and envisioning intellectually empathic learning communities underpins the interdisciplinary program, both in its curriculum and pedagogy, and in the faculty's scholarship and student engagement. The program offers some 70 courses, from "Women, War, and Peace," "Queer Politics in America," to "African Women and Feminism," and "Gender and the Body in Ancient Religions." There are also classes that delve into ancient religious traditions and Chicana/Latin, European, Indian, and African communities across the globe.
Florence, a professor of secondary education whose own research explores the impact of formal and informal structures on self image and cultural identity, helmed the program just as the pandemic hit in 2020 and leads it against the backdrop of the #metoo movement, the "don't say gay" agenda in Florida, the threat to abortion rights, and an uptick in the prominence of gender identity politics.
"Across the globe, many feel left out socially, economically, and politically by virtue of their race, gender, religion, sexuality, and nationality," says Florence. "We are creating global citizens for an already globalized world."
Teaching at such a diverse institution gives Florence a chance to engage in cross-cultural sensitivity and what she calls a "greater appreciation of alternative educational experiences."
What follows are highlights from a conversation with eight students who are taking courses in Women's and Gender Studies who discuss why they like the program, what issues most ignite action in them, and what they plan to do after they graduate.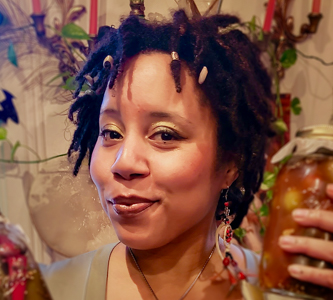 Chadley Britton, Senior, Women's and Gender Studies
Chadley Britton works with mental health programs for people of color and the queer community advocating for sex workers. She would also like to work with Black urban farmers, especially women. She has a friend who is the event coordinator for East New York Farms in Brownsville, which does a lot of community outreach, educational programming, and food advocacy.

"I'm looking forward to taking what I learned about food sovereignty, urban agriculture and herbal medicine and applying it to women's spaces and programs for Black, Indigenous, and people of color," she says.
Britton says that students should talk to everyone: professors, department heads, guest speakers, and academic elders. "There is an entire community of people who want to help and uplift you. Professor Florence has been a guiding angel that way."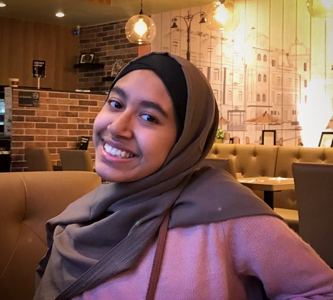 Nitu Farhin, Sophomore, Macaulay Honors College
Nitu Farhin is taking her first class, "Intro to Women's and Gender Studies" during the summer semester. She ventured into the course because she hopes to attend medical school and become an OB-GYN.
"Without the background knowledge of the diverse experiences that different women undergo here, it's difficult to become a good physician in a place like New York City," she says. "You need to learn about and study people from diverse cultures and backgrounds to advocate for and treat them."

Farhin is also interested in women's health on a global level.
"Especially about the health issues that young women face because of cultural traditions, the stress of married life and pregnancy at young ages, having to spend their lives experiencing health issues as a result," she says. "It hurts me to think about it."
She would like to work for UNICEF and an organization called Girls, Not Brides.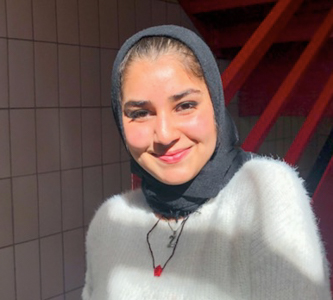 Zahra Jamil, Senior, Macaulay Honors College, Chemistry
Chemistry major Zahra Jamil was looking for a course outside of science when she found "Introduction to Women's Studies," where they discussed race, gender, and sex.
"We talked about body image and aging. We discussed how beauty in the media is often shown in such a way that the people viewing the images are not reflected in them," she says. "I see so many brilliant and beautiful people and they all look different."

One big takeaway from the many class discussions was "to be your own unique self, no matter what."
Jamil says the program has also helped her learn more about what she wants for herself.

"No one asked me what I wanted in life. People told me what I should want. Yes, ask for opinions, but finally, make your own judgment. Listen with a smart head, make your own decisions," she says.
As importantly, she believes the program is necessary to give her tools as she enters the world of medicine.

"We're all going to go out into the world," she says. "Some of us already are."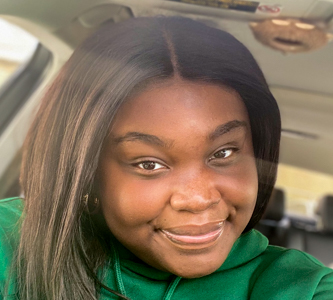 Jaia Jones, Sophomore, Macaulay Honors College, Women's and Gender Studies
Jaia Jones entered Brooklyn College with a view toward choosing a STEM major as part of her plan to attend medical school. Then a friend told her about Women's and Gender Studies. It seemed interesting, and as she took a closer look, she realized that majoring in Women's and Gender Studies would be crucial. "I want to get in tune with and understand women who deal with domestic violence," says Jones. "I feel they lose their voices and their life's path. They need to be reminded that they are still worth something. We need doctors out there who can understand them and empathize."

Serving the marginalized and underserved is heavy on her mind. "All the women in my life who have passed who were important to me died from heart disease and cancer. You realize that only 2.7 percent of female physicians are Black," says Jones. "The leading cause of death in women of color is heart disease and cancer."
For Jones, the numbers do not add up. "I want to be a cardiac surgeon. We need doctors out there who can empathize."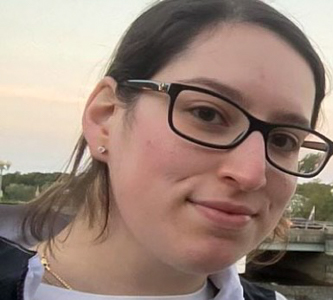 Megan Klein '22, Women's and Gender Studies
Like several of those who gravitate to the program, Megan Klein had done some community service and was drawn to social work. She says that while learning about the feminist movement and women's history, she learned much about herself and has a heightened awareness of issues surrounding the LGBTQ community.
"We legalized gay marriage and more and more people are identifying as trans and fluid gender," she says. It wasn't that way even in most of the last half the 20th century, yet we have this 'don't say gay,' movement," she says. "We still have work to do."
When determining a career path, Klein says she learned the hard way, but others do not have to. "Don't be scared, but think long and hard whether it is where you want to be five years or ten years in the future. Never stop learning. I still plan to study forensics one day."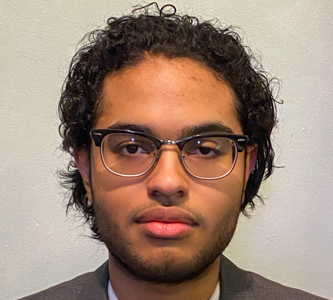 Alexander Lewis '22, Women's and Gender Studies
Alexander Lewis joined the program because he wanted to help bring more awareness to the growing importance of feminist theories. He has conducted research on gender-fluid characters in American and Japanese comics and graphic novels.
"The program opened up an opportunity that I did not think would be possible, being able to study what was essentially a hobby in a way that is critical, seeing how representation can be done in those mediums," he says. "Each course is so rich."
Lewis says he would like to write graphic novels and urges those with the slightest interest in women and gender studies to go for it. He also says to make room for failures. "They are a part of life, but each time you overcome them, you get better.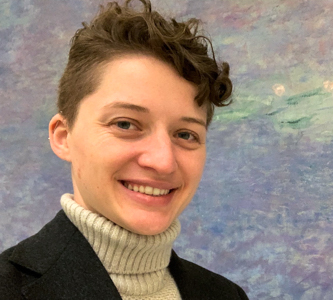 Jayson (J.D.) Miller, Junior, Women's and Gender Studies
Jayson Miller, who uses the they pronoun, came to Brooklyn College with a bachelor's degree in social work from San Francisco State University that included a minor in LGBTQ studies, human sexuality and counseling. They also have a master's degree in social work from Columbia University. When they looked to continue their education, they found Brooklyn College.
Having their identity and a variety of others represented in an academic setting was something new for Miller.
"We all have so many different parts that make us who we are, but to see some of who I am reflected in the people that are teaching me is great," they say,
As an assistant director and founder of the Identity and Acceptance program at the NY Foundling, Miller works at undoing the damage done from transphobia, homophobia, racism, ableism and classism.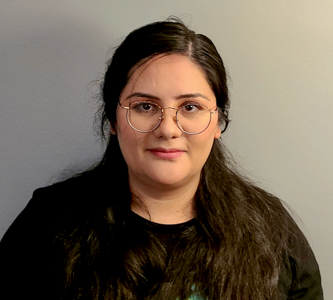 Mardzhona Odinaeva '22, Women's and Gender Studies
Mardzhona Odinaeva is an immigrant from Tajikistan in central Asia. She says that her identity was shaped first as a daughter, then a wife, and then a mom. "I was never me," she says. "I decided on Women's and Gender Studies because I want to learn about myself. If I go back to central Asia, how can I make it easier for other women there? How can I help them not to grow up to serve husbands and families only, but to be something for just themselves?"
Odinaeva, who is minoring in LGBTQ studies, recognizes the need to help those who are marginalized and bullied, a phenomenon she can hardly believe is happening in this day and age. "[In places in this country] If you are openly transgender, you are persecuted," she says. She aims to work for an organization like the United Nations, helping young people globally.
Back to BC News