Borough's first cancer center that brings together research, education, and community outreach gets a $100,000-boost.  
/web/new_2022news/1103_Biology_8736_94x84.jpg
Brooklyn College Cancer Center Receives Grant from the Gray Foundation
January 17, 2023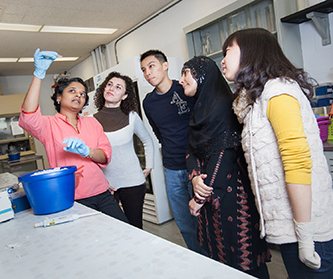 The Brooklyn College Cancer Center-BCCC-CURE (CommUnity Outreach, Research, and Education) is pleased to announce it has received a $100,000 grant from the Gray Foundation.
BCCC-CURE is the first of its kind in Brooklyn. Its mission is to enhance the lives of patients affected by cancer, with a special focus on underserved Brooklyn residents, through research, education, and community outreach.
"We are grateful to the Gray Foundation for its generous support," said Maria Contel, the BCCC-CURE's founding director. "Partnering with organizations that share our mission is important to continuing this important work."
Located at Brooklyn College's main campus in Midwood, BCCC-CURE was established in 2020 with support from the Brooklyn College Foundation, individual donors, and research grants awarded to college faculty affiliated with the center. BCCC-CURE is committed to diversifying biomedical research and cancer-related professions; increasing the social mobility of its students; and, mitigating the disparities that underrepresented groups experience in education, treatment, and palliative care.
The Gray Foundation has a dual mission: to expand access to education, healthcare, and opportunity for New York City youth from low-income backgrounds; and, to accelerate research, improve treatment, and raise awareness for individuals and families who have inherited BRCA mutations.
"BCCC-CURE's work is at the intersection of the Gray Foundation's two-part mission, and we are pleased to support this integrated approach to improving education and healthcare in New York City," said Dana Zucker, CEO of the Gray Foundation.
Back to BC News