Returning Safely Together
Returning Safely Together
Last Updated: April 14, 2022: 11:00 a.m.
Random Testing Compliance and Campus Access
When members of the campus community receive a random testing email, they are required to follow the instructions provided and to test at a designated CUNY test site within a 7-day period. The CLEARED4 system will deny campus access to students, staff, and faculty who do not comply.
New Guidelines on Booster Shots for Students
CUNY students taking in-person or hybrid classes in the 2022 Spring Term will be required to get a booster shot when eligible. See CUNY FAQs for details.
Report a Concern, Make a Request, or Ask a Question
Vaccine Mandate
The CUNY Vaccination Policy requires all students to be fully vaccinated to enter campus—unless they have been granted a religious or medical exemption or they need emergency services.
All Students Taking Remote and On-Campus Classes
If you need a place on campus to sit and access your remote class using your personal device, the library, WEB Lab, and Student Center basement/lower level are options.
Bring your own mic and headset if you can.
Latest Updates
Letters From the President
What You Need to Access Campus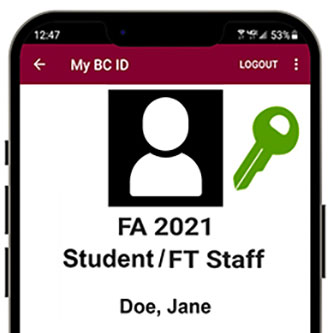 Your BC Digital ID now includes a green key icon that indicates whether your vaccination is fully approved in CUNYfirst or you have a negative PCR test from a CUNY COVID-19 testing site within the past seven days. If you have not done so already:
Submit your CUNY vaccine verification (students, employees) or schedule an on-site COVID-19 test to receive your green key.
Be sure to install BC Navigator on your smartphone.
Sign in with your WebCentral account to start using your Digital ID.
Instructions on How to Claim Your Cleared4 Account
If you do not have a smartphone, you will need a physical college ID card and a copy of your CLEARED4 QR code to access campus. If you do not have both, send an e-mail for assistance. Gate ambassadors will also be available to help at the campus entrances. If you will require assistance, be sure to arrive early.