Sustainability
The mission of Brooklyn College's sustainability initiative is to create an overarching culture of sustainability throughout the entire campus community by raising awareness of, engagement in and commitment to reducing our carbon footprint through campus-based education, research, operations, community-based collaboration, and service. Our sustainability planning will take special recognition of the constraints, opportunities, and responsibilities attendant with our urban location in one of the most densely populated cities in the United States.
To advance this mission, in 2010 the college convened the Brooklyn College Sustainability Council and the Provost's Task Force on City-Based and Sustainability Education to evaluate sustainability on campus and make recommendations for improvements in seven pillar areas:
Waste Management and Recycling
Water
Energy
Procurement
Food and Nutrition
Transportation
Outreach and Education
Goals for advancement in each of these areas are included in Brooklyn College's 10-Year Sustainability Plan.
This plan guides the college's green initiatives, in conjunction with the CUNY Sustainability Initiative and PlaNYC and in partnership with businesses, government, regional and citywide organizations.
Conferences, Workshops and Webinars
The Princeton Review's Green Colleges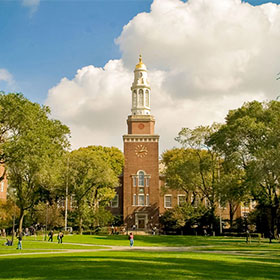 Back-to-back! Brooklyn College makes the list of The Princeton Review's Guide to Green Colleges: 2022 Edition. Brooklyn College is also recognized in The Princeton Review's 2022 Best Colleges: Region by Region, Best Value & The Best Colleges: 2022 Edition websites as one of the best colleges in the Northeast.
The Princeton Review Guide to Green Colleges presents information on each school's use of renewable energy, its recycling and conservation programs, the availability of environmental studies in academic offerings, and career guidance for green jobs. The Princeton Review is an education services company known for its tutoring, test-prep, books, and other student resources. Headquartered in New York City, it is not affiliated with Princeton University.
REV Campus Challenge
We are recognized as an Achiever member for the college's initiatives and efforts to improve energy efficiency and conservation by NYSERDA's REV Campus Challenge program.