We Stand Against Hate
"We Stand Against Hate" has been a campus fixture since spring 2017. Throughout the year, the initiative features lectures, workshops, concerts, programs, and events that reflect our ongoing commitment to elevating dialogue, enhancing understanding and compassion, and celebrating the voices that make up our diverse campus community.
Celebrating Pride Month at Brooklyn College
June 3, 2021
Dear Brooklyn College Community,
Pride month is celebrated every June in tribute to those involved in the Stonewall riots, which began on June 28, 1969 in New York City. Each year during this month, we recognize and celebrate the contributions of lesbian, gay, bisexual, and transgender individuals and how they have influenced and enriched society.
The LGBTQ+ community joined together with the diverse voices of the social-justice movement at that time and continues to demonstrate their solidarity with the ongoing struggle for social change. Like the community at large, our campus community is also focused on raising awareness through unity. Our LGBTQ+ students, staff, and faculty and their allies continue to educate and build community by hosting workshops, events, and creating affinity groups and student clubs.
Kelly Spivey, a technology manager in the Film Department, now leads the LGBTQ Resource Committee. She says, "as the new chair of the LGBTQ Resource Committee, I'm dedicated to making sure we have 'pride' in ourselves all year long. That begins with a commitment to supporting one of our most-valued resources on campus, the LGBTQ Resource Center. I am also committed to ensuring that our diverse LGBTQIA students feel welcome and supported on campus, no matter what month of the year it is."
It is important to highlight our LGBTQ Resource Center, a welcoming and safe space focused on programming and advocating for issues that affect the LGBTQ+ community.
Reflecting on Pride month, David P. McKay '93, the center's director, says: "We are one…and yet not one. We are cis- and transgender. We are Black. We are Asian and Asian-Pacific. We are Hispanic and Latinx. We are White. And we are everything in between. We are special. And we are so, so proud."
Additionally, CUNY has launched new initiatives to support LGBTQ+ students, including the New Advocacy Academy and summer internship programs that provide career-engagement opportunities and training for the LGBTQ+ leaders of tomorrow. More information can be found at https://www1.cuny.edu/mu/forum/2021/06/01/cuny-launches-new-initiatives-to-support-lgbtqi-students/.
Thank you,
Anthony Brown, Esq.
Chief Diversity Officer and Special Assistant to the President
Office of Diversity and Equity Programs
Brooklyn College
718.951.4128
Anthony.Brown@brooklyn.cuny.edu
We Stand Against Anti-Semitism
May 28, 2021
Brooklyn College Community,
I write today to express outrage over the rise of anti-Semitism in New York and elsewhere around the country. Attacks have been both verbal and physical; too many of us have seen them as they are being committed, or after, caught by cell phones and security cameras and amplified through social media and television. In Brooklyn, Jewish teenagers have been attacked outside a synagogue; in the Bronx, four synagogues have been vandalized.
Jewish Americans have played an integral role in Brooklyn College's rich history from its founding in the 1930s. Socially aware faculty and students were alive to wrongs elsewhere in the world. They volunteered to defend democracy in Spain in 1936, joined the armed forces in the worldwide fight against Nazism and fascism in the 1940s, and participated in the Civil Rights and anti-war movements of the 1960s. With their superior Brooklyn College education, they have given back to our country—as teachers, politicians, lawyers, judges, artists, and scientists—one among them a Nobel laureate. The Jewish community has reached out to their non-Jewish friends, most recently to condemn and fight racism and anti-immigrant violence.
As we prepare for this Memorial Day Weekend, I call upon you to remember that acts of violence and injustice against one group are acts against us all. And so we stand in solidarity with members of the Jewish community. Any anti-Semitic incidents of violence, whether verbal or physical assault, or those against any other protected class or any Brooklyn College program or activity may be reported to the Office of Diversity and Equity Programs here.
We are committed to being a campus where everyone matters and everyone belongs, a campus where respect will never be replaced by hateful words or actions. We Stand Against Hate.
Anthony Brown, Esq.
Chief Diversity Officer and Special Assistant to the President
Office of Diversity and Equity Programs
Brooklyn College
718.951.4128
Anthony.Brown@brooklyn.cuny.edu
Statement by Chancellor Félix V. Matos Rodríguez on the Federal Department of Education's Guidance Regarding Discrimination Against Gay and Transgender Students
"The City University of New York applauds the U.S. Department of Education's affirmation that the workplace protections extended to gay and transgender people by the Supreme Court's ruling in Bostock v. Clayton County also safeguard students under Title IX, the 1972 law that prohibits sex-based discrimination in federally funded schools."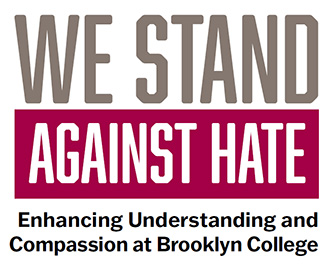 I understand their meaning,
It could and did derive
From living on the edge of death
They kept my race alive
By wearing the mask!
— Maya Angelou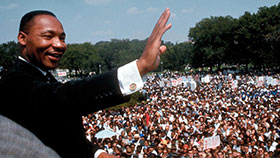 People fail to get along because they fear each other; they fear each other because they don't know each other; they don't know each other because they have not communicated with each other.
— Martin Luther King, Jr.