As an engaged journalist, and in a sense, another sort of messenger, Hassan will always delight in finding and bringing attention to the voices that speak the truth, especially when those speaking are the downtrodden.
/web/aca_socialsciences_general/CT_April2019-Abdalla-Hassan_94x84.jpg
Our Alumni: Abdalla Hassan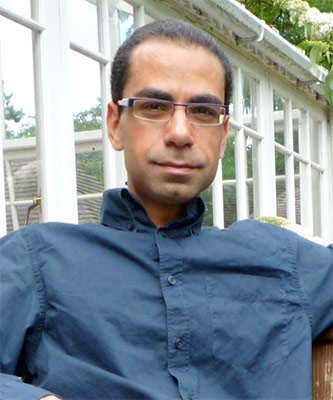 Abdalla Hassan '94 recently shared in his Twitter feed a New Yorker cartoon. It shows two men who appear to be ancient Egyptians standing by a stone carved with hieroglyphics. The caption reads, "Why would I be proud of this? It's my to-do list." American-born Hassan, the child of Egyptian immigrants, quotes from his friend, the historian Jason Thompson, that "there is something intrinsically fascinating about ancient Egypt….Children often seem to be drawn to it almost instinctively. Egyptomania recurs and spreads like a highly infectious, incurable disease." Further, as Hassan was reminded in 2011 in an interview with The Economist's Cairo-based Max Rodenbeck, "There is a kind of bias of foreign journalists toward Egypt, which is rather a favorable bias, partly because everyone is interested in Egyptology. Egypt is a country that every school kid knows about." Consequently, regardless of what dictator is in power, the "Egyptian government does not have to worry very much about getting very bad press."
Hassan is well-positioned to recognize the ugly underside of Egyptian politics and the relationship of those in authority with the media. He worked in Egypt for nearly two decades as a journalist with a six-month leave as a fellow at the Reuters Institute for the Study of Journalism at Oxford University in 2010. In an article he wrote for Brooklyn College in 2014, "Dispatches from Egypt," he opens and closes with the line, "Maybe it is time to be back in Brooklyn." Hassan did return from Cairo to the United States on Christmas Eve 2016. As he explains it, "press freedoms in Egypt are contracting." Egypt is the world's third-largest jailer of journalists, right behind Turkey and China. Rather than continue to live under constant danger and continued pressure to self-censor, Hassan felt he would be safer living again in Brooklyn.
Before he launched his career in journalism, Hassan spent his undergraduate years at Brooklyn College as a history major taking an eclectic range of courses. His most memorable experience as a major was a six-credit summer course he took on the Dominican Republic (DR) with Professor María Pérez y González. The course included time in the DR and exposure to a wide economic spectrum. The class visited agricultural communities, an export center, and a tourist enclave. They met and interviewed political organizers and the deposed, first democratically elected president of the DR, Juan Bosch. They spoke to poor Haitian farm laborers who make less than a dollar a ton for the sugar cane they harvest, newspaper editors and radio station broadcasters, and the judge who presided over a trial they were allowed to witness. As Hassan remembers it, "I gained a living sense of history that I never would have absorbed simply from pouring over books. The sojourn to the Dominican Republic was the highlight of my years at Brooklyn College, which led to graduate study and a career in journalism."
Graduate degrees from both the Columbia University School of Journalism and The American University in Cairo further prepared Hassan for his career in journalism. His training ultimately led to his finding himself in the midst of the 2011 "Friday of Rage" protests aimed to topple the government of Egyptian president Hosni Mubarak. His video camera in hand, Hassan filmed the protest and fled possible arrest, aided by several of the protestors. As a journalist, he became part of what he was witnessing. When asked if as a reporter he needs to remain objective and apart from history-in-the-making, Hassan replies, "The fundamental tenet of journalism is not simply objectivity….The fundamental tenet of journalism is to report what is true and to be fair." He gives as a counter-example to concerns that journalist always be objective the idea of reporting on climate change. "Would a journalist give equal space and equal time to the climate change denier as he would the overwhelming scientific consensus?"
Relating the work of a journalist to the work of a historian, Hassan notes a similar problem with those who maintain that total objectivity is critical. "Is the slaveholder's version of history just as true as the enslaved? Are we to disregard the history of indigenous populations when writing about the settlement of the Americas? There is a moral component that frames our understanding of history. It is no different in journalism. A journalist's work is considered a first draft of history." An important distinction, though, between the work of a journalist and the work of a historian, Hassan observes further, is that a historian is given time to reflect. In the writing of his book Media, Revolution and Politics in Egypt: The Story of an Uprising, Hassan notes the dual roles he has performed. "I had the chance to rethink, reflect, analyze, and 'connect the dots' [while writing the book, but] I also had the vantage of living through those events. Other histories have been written and still more will be written, each one contributing to a more complete understanding of events. But I don't believe that being detached necessarily benefits the work of a journalist or a historian."
It is clear from the title of Hassan's book that media is inextricable from the nation-shaping events of our time, but with so many media outlets competing for attention, how can one discern the truth? Hassan notes that "credible and trustworthy media fostering a national conversation are more in demand than ever." What is needed, he concludes, "is a reasoned, intelligent, and ongoing conversation between people of differing viewpoints, a sincere effort to determine the facts and work through solutions." Hassan also argues for instruction in media literacy, which he defines as "accessing, evaluating, and analyzing the veracity of information and forming conclusions defended by the facts."
Hassan is currently working on a documentary about the novelist Alaa Al Aswany, Man of Letters and Revolution. Aswany is a founding member of the Egyptian anti-Mubarak political movement Kefaya. Hassan has an ongoing interest in creating documentary film. In his earlier film, The Art of Mandur, he examines the relationship between a renowned Egyptian potter and his son. At one point the father says, "We are in a difficult time and even tougher circumstances. It is important for a person to work with his hands or hold the secrets to a profession especially if it is an artistic craft like pottery or ceramics." The father also comments, "If you asked me honestly, 'What is the future of Egypt?' I'll tell you it is in handmade crafts. What I can do individually is pass on my craft to my son or children." Hassan has great respect for the subversive abilities of the arts in times of an authoritarian regime. He pronounces: "Creativity has found ways around the impasse of censorship. Creative outlets chip away at the castles of a ruling order, never immediately, but over time."
When Hassan looks at Egypt now, he sees it as worse than it ever was during his time there as a journalist. Egypt is a place where "hope for an open, free, and democratic society… has been extinguished." Nonetheless, he does add, :the struggle has turned to one of small victories—lobbying for the release of incarcerated journalists and political detainees, shaming officials on social media for their dereliction, batting in the courts to roll back a clause in restrictive legislation, and gradually squeezing open spaces for expression and dissent."
Always the champion of the subversive, Hassan refers to another favorite New Yorker cartoon. In this image, the medieval monarch sits in his lavish palace, absorbing the news from his messenger. The caption reads, "the peasants are mercilessly ridiculing you online." As an engaged journalist, and in a sense, another sort of messenger, Hassan will always delight in finding and bringing attention to the voices that speak the truth, especially when those speaking are the downtrodden.
Abdalla Hassan is a student of history who has taken his education into the world of journalism and recording events as they happen now. He offers advice to Brooklyn College students who may consider majoring in history. "One doesn't learn only from the subjects taught within the four walls of a classroom, but the entire college experience and how it shapes who we become: learning to think critically, being exposed to new ideas, expressing our opinions and writing well, being open to new experiences, discovering what matters to us, learning to lead as well working as a team. Those are skills that contribute to success in whatever career or profession Brooklyn College graduates pursue."
Back to Critical Thinking — April 2019