A revolutionary plan allows students to have input into how at least $20,000 will be allocated.
/web/new_2012news/120316_StudentsGainSayinHowBrooklynCollegeSpendsPartofItsBudget_94x84.jpg
Students Gain Say in How Brooklyn College Spends Part of Its Budget
March 16, 2012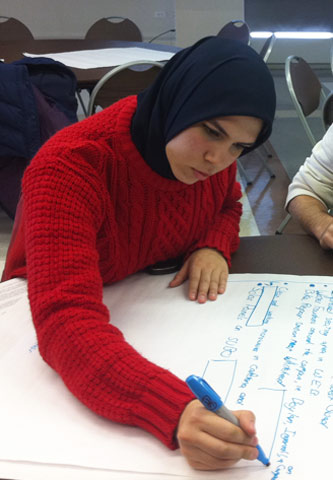 In its long list of accomplishments, Brooklyn College just added another historical milestone when it became the first higher education institution in the United States to implement a participatory budgeting project, which will enable all students to determine how to spend a portion of the funds allocated to the student government — at least $20,000.
"It's their money, and students have the right to decide about something that affects them," says Michael Menser, assistant professor of philosophy, who advises students involved in the project. "The idea behind bringing in more people is that you are getting more creativity and reducing corruption."
Until this semester, 10 percent of the student government budget was distributed among the official student clubs. But for the 13,000 students who do not belong to any club, they didn't have a chance to address their needs. With participatory budgeting, each student has the power to initiate ideas for projects and can later vote for the proposals he or she likes the most.
"It is the example of democracy that we talk about in classes," Menser states.
The first step of the project was a series of town hall meetings. Students brainstormed ideas for projects that, in their opinion, would improve their experience at Brooklyn College.
"I would like to see new billiard tables in Student Center," said a business major, Darren Vickerman, who attended the most recent meeting. "It would be a fun way to spend time between classes."
Other ideas included extending the garden behind the West Quad Center, and installing a bike repair station and more water fountains around the campus. MetroCard vending machines on Bedford Avenue and wireless printing stations in each building were among other initiatives proposed.
"The great part about this is project is that it doesn't matter what I think. It's up to the students," explains Michael Amar, a member of student government. "Personally I liked the rooftop garden proposal, but that is just a matter of my taste."
The suggestions will be discussed during delegate meetings, when students and faculty will determine if the proposals are legal and feasible. The final list will be available for all students to vote on simultaneously with the student government election, beginning on April 13.
Participatory budgeting originated in Brazil and has registered a remarkable success rate in thousands of cities across the globe. The project was also adopted in New York's four city council districts. Participating city council members are each setting aside at least $1 million in discretionary funds for residents to allocate.
Back to BC News