Winners of the library's annual art contest think outside the box.
/web/new_2012news/120718_LibraryArtAwardNicotineMan_94x84.jpg
Students Show Off Their Creative Side
July 18, 2012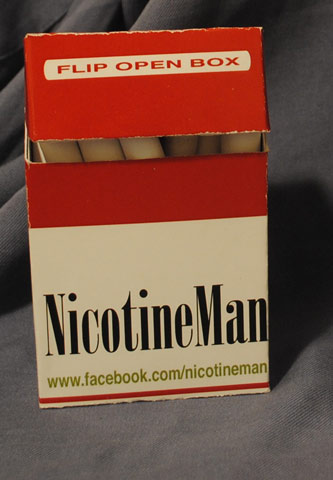 A newfangled nicotine man and a student inspired by the rhythmic tap tap of that ancient relic the typewriter are the winners of the 2012 Brooklyn College Library Art Award.
Andrew Baer, a senior majoring in fine art, and Alex Renner, a graduate student working on a master's degree in music composition, were chosen as the best of this year's 81 entries. Each took home a $500 prize.
Every year, students are asked to select a piece of art from the library's collection and respond to it with a unique and original work in any medium. The platforms for this year's entries ranged from interactive computer programs to poems, videos, musical compositions and multimedia creations.
Baer's entry, in fact, was an exhaustive multi-layered, multimedia project that included a panoply of Twitter, Facebook, Tumblr, a blog and some more traditional artistic creations that were featured on the sites.
In response to John Arruda's Nicotine Man, Baer made a cigarette box in which he placed rolled pieces of paper that invite viewers to check out his virtual creations, which were embedded with his original artwork, including blog entries, poetry, collections of cigarette-inspired art from the Internet and his own original drawings made from the ember of a burning cigarette.
"I had a lot of other things going on in my life and I didn't have time to devote several hours a day to this, so I came up with a project that I could work on just a little bit every day," says Baer, who is trying to quit smoking. "In the same way that cigarettes can be on your mind all the time, this project was on my mind all the time. Sometimes working on it was a replacement for smoking."
Renner composed and performed music for his entry, entitled "Press," which is nearly seven minutes long, using the marimba and piano. He was responding to William Kentridge's Typewriter.
"It just kind of clicked," explains Renner. "The instrumentation was instantaneous for me. Typing on an old typewriter creates its own little rhythmic motion that you don't get typing on a keyboard. What can I say? It was melodic to me."
Miriam B. Deutch, associate librarian for research and access services, says that this year the judge's panel was unanimous when choosing the winners.
"The winners were so inventive and so creative," she says. "That's what we were looking for. They also showed a strong link to the art they were inspired by. So the choices were clear. That hasn't always been true."
The competition was founded in 2008, in the wake of the renovation of the library. New York State had earmarked a percentage of the money used for the renovation to be spent on artwork as part of a law that attempts to make art accessible in venues outside of a typical museum or gallery.
"We purchased a lot of art and wanted to make sure that it would speak to the diversity of our student population," says Deutch. "Once we were able to catalog all of the art online, we were looking for a way to engage students in the collection. Rather than having an opening, we came up with the contest."
Undergraduates Emily Kenselaar and Christina Squitieri and graduate students Briggan Krauss and Sophia Remolde received honorable mentions. Their entries included a poem, a drawing and an interactive composition of computer sounds.
Back to BC News