Distinguished lecturer wins praise at world's largest and most prestigious modern and contemporary art show.
/web/new_2013news/150213_VitoAcconci_94x84.jpg
Vito Acconci Named 2012 Designer of the Year at Miami Art Basel
Feb. 19, 2013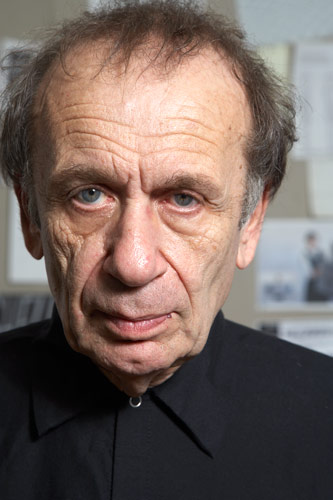 Distinguished Lecturer Vito Acconci of the Brooklyn College Art Department was named 2012 Designer of the Year at Miami's annual Art Basel celebration, which is widely considered one of the most important art shows in the United States.
"I was very surprised to receive the award," says Acconci, who joined the Art Department faculty in 2005. "I don't consider what we do is art, as in something to be seen," he added, explaining that his studio's work is a collective effort of the architects and designers who are part it. "We create spaces that people can use and be a part of."
Born in the Bronx, Acconci began his professional life as a poet in the 1960s, transformed himself into a performance artist in the 1970s, and gradually remolded himself into a designer and architect in the late 1980s, when he opened Acconci Studio in Brooklyn.
"Acconci is a renowned maverick, a bona fide star, whose brilliant constructions and advanced morphing of spatial and functional categories have made him a unique and legendary figure in contemporary culture," says Archie Rand, Presidential Professor of Art. "Acconci's sometimes playful and exquisitely composed works enhance public locations and institutions throughout the world."
Founded in 1970, Art Basel is one of the largest art fairs in the world and showcases annually, in Miami Beach and Hong Kong, an enormous global selection of galleries and artists. "Since 2005, its corollary exhibition in Miami has offered some of the most cutting-edge concepts seen in architecture and design," adds Rand.
As part of Acconci's Designer of the Year award, his studio received a commission from the Miami Design District for a permanent playground to be installed in the area in 2014. The Klein-Bottle Playground will consist of a series of tubes jutting from a central sphere, through which children can climb.
Founded in 1988, Acconci's design studio specializes in landscape design and architecture. His projects are typically dedicated to time and movement, and everyday living. They include Open-Book Store, Armory Art Fair, New York (2007); Wave-a-Wall, West 8 Street subway station, Brooklyn (2006); Roof Like a Liquid Flung Over the Plaza, Performing Arts Center, Memphis, Tenn. (2004); Mur Island (floating café, theater and playground), Graz, Austria (2003).
Acconci is the recipient of numerous awards and honors, including honorary doctorates of fine arts from Detroit College of Creative Studies (2009); New School University, New York (2008); and Pratt Institute, Brooklyn, N.Y. (2002). He has also received NEA Fellowships (1984 and 1980) and a Guggenheim Fellowship (1979).
Back to BC News