The award, named after the CUNY alum who discovered a vaccine for polio, recognizes future medical scholars.
/web/new_2018news/180504_SalkWins_94x84.jpg
Two BA-MD Students Named Salk Scholars
May 4, 2018
A pair of seniors, Lily Lee and Iqra Nadeem, has been named 2018 Jonas E. Salk Scholars, an honor that recognizes their potential to make significant contributions to medical research and which will bestow them each with $8,000 to defray the cost of medical or graduate school. Lee and Nadeem, both students in the college's Coordinated BA-MD program, will be honored at a reception this month, along with six other CUNY students who have conducted research as undergraduates in the fields of medicine or biomedical sciences.
The award is given annually to students who are selected by a panel of physicians, all of whom are Salk alumni, based on the quality of their research and recommendations from professors and mentors. Salk, a City College graduate who discovered an anti-polio vaccine, turned down a planned parade to celebrate his life-saving discovery and asked that the money be used for scholarships instead.
Lee, a MaCaulay Honors College student, is double-majoring in chemistry and children and youth studies, and plans to enter an M.D. and an M.P.H. program at SUNY Downstate next year. She has conducted extensive research on tobacco since she was in high school and continued that work with a New York University professor Michael Weitzman '68 during her undergraduate years.
"It's very rewarding hearing from smokers who have changed their life," says Lee, who wasn't sure she wanted to conduct scholarship until she began doing the tobacco research and felt like her work was having an impact.
Lee has held two internships with the New York City Department of Health, one with the non-profit anti-tobacco campaign Truth, and currently volunteers in an after-school program for incarcerated youth.
Nadeem is majoring in political science and has been an activist around issues of women's health, mental health, and social justice during her time at Brooklyn College. She sees medicine as a tool to help people advocate for their community and says she really found her calling here.
"The belief that students can be agents of social change keeps me hopeful," she says.
Nadeem has worked with Students for Justice in Palestine, a peer health exchange program, and was a founding member of the TedxCUNY team. She has conducted research on breast cancer during her undergraduate years and presented at the 2017 conference of the American Association of Cancer Research.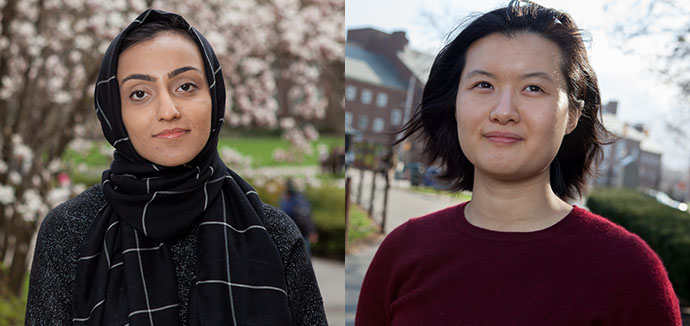 Back to BC News