Renee Blumenfrucht '15 was prepared to give up on securing a dream job—until Leonardo Rizzi '93 and the Brooklyn College Magner Career Center intervened.
/web/new_2018news/Blumenfrucht_Rizzi_94x84.jpg
What Alumni Mentorship Means for Student Success
Nov. 1, 2018
Renee Blumenfrucht '15 was prepared to give up on securing a dream job—until Leonardo Rizzi '93 and the Brooklyn College Magner Career Center intervened.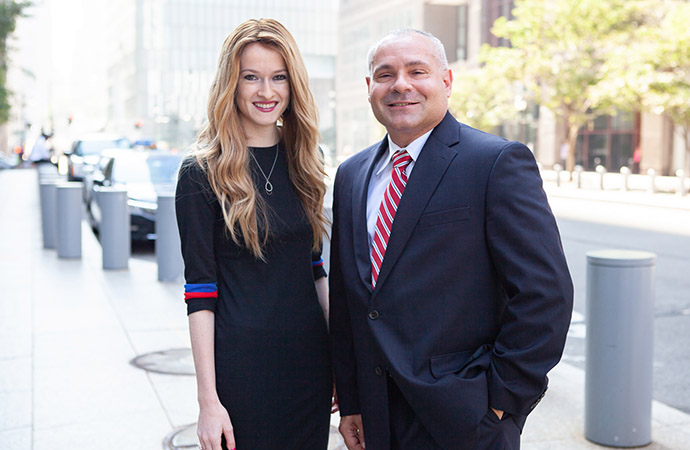 During her senior year at Brooklyn College, Renee Blumenfrucht '15 went on an interview at Goldman Sachs to apply for an internship. Imagine her surprise when she was instead offered a full-time position set to begin right after she graduated. She believes she was able to impress the employer because of advice she received from one person in particular: Leonardo Rizzi '93.
"He was incredibly instrumental and encouraged me to apply to Goldman, and I got the position I applied for. This experience taught me that while it is crucial to do well in school and have the requisite skills and qualifications, having someone who can vouch for you when you are first starting out helps you to get your foot in the door quicker," says Blumenfrucht, who received her bachelor of science in actuarial science and financial mathematics and is currently a senior analyst at Goldman. She returns to the college often to mentor students looking to break into business and finance fields. "I often tell Brooklyn College students that while it's helpful to know someone in order to get your foot in the door, once your foot is in the door, it's up to you to keep it there."
A recipient of the Presidential Scholarship, the Lorraine Levine Memorial Award in Mathematics, the Claire and Leonard Tow Scholarship, and the Anna and Joseph Weisinger Scholarship, Blumenfrucht says that she had initially given up on working for Goldman after she twice applied for internships at the company but it never materialized. Then, Natalia Guarin-Klein, director of the Brooklyn College Magner Career Center, sent out an e-mail to students informing them of an opportunity to meet with alumni who worked at Goldman. Guarin-Klein reached out to Blumenfrucht personally to tell her that she should meet with Rizzi, who was at the time a vice president and head of operations division vendor risk management at Goldman. 
"Natalia is amazing and one of Brooklyn College's most valuable resources," says Blumenfrucht. "She helped me tailor my résumé and put together my LinkedIn page. She helped me to secure many interviews across various firms as well as mentorship opportunities. She even connected me with Marge Magner '69, who helped me determine which prospective firms I should seek opportunities with. I would say Natalia is probably the most critical part of my academic and professional success."
Blumenfrucht had a casual meeting with Rizzi, even though she had already received an offer from another firm, because she valued Guarin-Klein's advice and guidance.
"From the minute I met her, I knew she had what it takes to succeed. She only had to focus on being more confident," Rizzi says of Blumenfrucht, adding that Brooklyn College students are among the smartest and most determined he has ever come across.
On his end, he informed Goldman's human resources department about the potential possessed by the college's students.
"I know Brooklyn College is not a target school for us, but I have been working with some of the students closely and they are very bright. I'm not asking for promises or commitments; I'm asking for a chance to bring a few students in for internship interviews. Renee was the first to come through the door."
A former vice president at Morgan Stanley, Goldman Sachs, and now a vice president at The Clearing House—Rizzi sees his own success as a blessing and believes it is part of his responsibility, and a full show of gratitude, to pass that blessing on. He does so through mentoring and also by participating on panels and in workshops organized by the Magner Center. And his connection to Brooklyn College students and other alumni is not fleeting, exemplified by the fact that he still mentors and advises Blumenfrucht to this day.
Rizzi's is the classic Brooklyn College story. Born in Italy, he immigrated to the United States with his parents when he was just seven months old. They arrived in Brooklyn, where Rizzi lived for 30 years before moving to Staten Island. He is the first person in his family to receive a college degree—a bachelor of science in business management and finance.
"I grew up in a blue-collar, immigrant neighborhood, where most young people didn't have access to the people who worked at the Goldman Sachses and Morgan Stanleys of the world. For me, there was no grand plan like, 'I'm going to go to college; this is what I'm going to do and this is my dream.' It was more like, you can go to college after high school or you go to work—just don't go to jail."
For Rizzi, the definition of success has nothing to do with money. Instead, success for him it means improving processes at the organizations he works for and having a positive impact on the lives and careers of the people he comes in contact with. He says he focuses on standing out in two specific ways.
"First, in any situation, I won't be outworked. And when it comes to dealing with difficult circumstances, being direct while simultaneously empathic is something I always strive for."
The Magner Career Center is able to provide students the assistance, skills, values, and opportunities that are essential to fulfilling their career aspirations thanks to the generous support of alumni and friends received through the Brooklyn College Foundation. To learn about the various ways to contribute to student success, please visit the foundation website.
Back to BC News