At a time when his scholarship is red hot, the political science professor is recognized as a faculty star. 
/web/new_2020news/CoreyRobinthumb.jpg.png
CUNY Board Names Corey Robin Distinguished Professor
July 1, 2020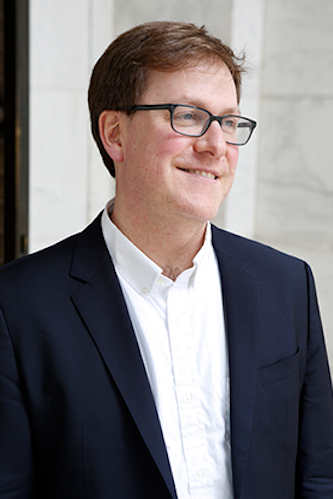 Professor Corey Robin, a widely published and well-decorated public intellectual who has been on the faculty of the Political Science Department for more than 20 years, has been named a Distinguished Professor by the CUNY Board of Trustees. It's an honor that places him in rare air among CUNY professors. Only 250 of the university's 6,700 faculty members—less than 4 percent—can hold the distinguished professorship at one time. Robin's appointment brings the number of distinguished professors at Brooklyn College to 10.
"From the moment I came to CUNY, I've tried to write and teach about themes and issues—about capitalism, race, and the Constitution—that are at the heart of our mission as a public institution," says Robin. "Public scholarship, which arises from the classroom and sees writing as an extension of teaching, is what I do, and I'm beyond excited to have it recognized in this way."
Robin's political theories have become required reading for journalists and others in the political-intellectual class, and his writing is routinely published in The New Yorker, The New York Times, and The Nation. He has nearly 50,000 Twitter followers, among them prominent figures like U.S. Rep. Alexandria Ocasio-Cortez and comedian Trevor Noah.
His latest book, The Enigma of Clarence Thomas (Metropolitan Books, 2019), received a lot of attention for presenting a new take on the U.S. Supreme Court justice that provocatively credited Thomas' black nationalist roots with much of his conservative ideology. A previous tome, The Reactionary Mind: Conservatism from Edmund Burke to Sarah Palin (Oxford University Press, 2011) found new life after Donald Trump was elected president. In a recent re-examination, The New Yorker called it the book that predicted the rise of Trump.
Robin has earned fellowships from the New York Public Library's Cullman Center for Scholars and Writers, Princeton University's Program in Ethics and Public Affairs, and the American Council of Learned Societies, among others. He also was a recipient of the 2005–06 Presidential Authority Award from the Russell Sage Foundation and the First Book Award in Foundations of Political Thought in 2005 from the American Political Science Association.
The CUNY distinguished professorship was designed to help the university system recruit and retain prominent scholars who might otherwise get snagged by big-name colleges and universities. It recognizes exceptional scholarly achievement and is reserved for professors who are considered among the elite in their field. The approval process is rigorous and includes review by a selection committee, the chancellor, and ultimately the CUNY Board of Trustees.
For his part, Robin says he has his Brooklyn College students to thank.
"I've tried to write in a way that is accessible to people who are not necessarily academics. My imagined audience is one of general readers rather than scholars only," explains Robin. "I got the inspiration and training for that kind of writing from our students. Many of my ideas came to me in the classroom—in seminars on the politics of fear, in classes on conservatism, in lectures on Plato and Frantz Fanon, on Hannah Arendt and Adam Smith, on John Locke and Frederick Douglass—and I learned from my students where those ideas might take me."
The very first distinguished professorship at Brooklyn College, in 1970, also went to a political science professor. Martin Landau '47 worked closely with the famous historian John Hope Franklin while he was the chair of the college's History Department and preparing research for the landmark Brown v. Board of Education of Topeka Supreme Court case.
Back to BC News