Kalin Ivanov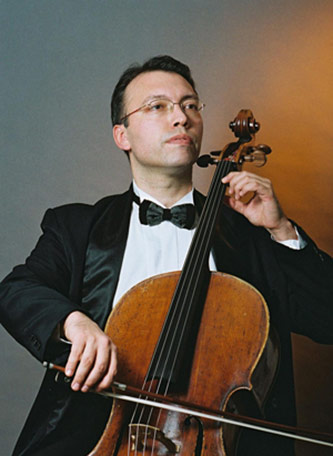 Adjunct Lecturer, Cello
Cellist Kalin Ivanov is a prominent soloist, recitalist, chamber musician and recording artist. Compared by the press to Rostropovich, Yo-Yo Ma, Piatigorsky and Jacqueline du Pré he is quickly gaining recognition as an artist whose dramatic urgency and expressive tone (The Strad, New York) is matched by his deep, emotional and poetic performing style (Moscow North). Former music critic of The New York Times Harris Goldsmith stated that "Ivanov presents himself as a player with a fine grained, luscious tone" (New York Concert Review). The World Panorama (Bulgaria) wrote, "Kalin Ivanov is a phenomenon in the palette of the most talented musicians," and Musical Opinion (United Kingdom) confirmed: "one of the most celebrated cellists of his generation." A native of Bulgaria, he began studying cello at age six with his father. He holds bachelor of music and master of music degrees from the Academy of Music and Dance Arts (Bulgaria), State Academy of Music (Bulgaria) and Brooklyn College, where he studied cello with Marion Feldman. He has studied and participated in master classes given by such distinguished cellists as David Soyer, Nathaniel Rosen, Steven Doane, Laurence Lesser, Andre Emelianoff, Anatoli Krastev and others.
In 1999 Ivanov won the C.W. Post Chamber Music Festival Concerto Competition. Hiss young career of charismatic performances led him from the concert halls of Bulgaria to Greece, Austria, Switzerland, France, England, Italy, Russia, Czech Republic, the Caribbean and, of course, the United States, including recent appearances as soloist with Prague Sinfonietta, Sofia Philharmonic, Varna Philharmonic, Sliven Symphony, Sinfonietta — Sofia, New York Chamber Players Orchestra, North Shore Symphony, Plovdiv Philharmonic, Bulgarian Virtuosi Orchestra, Pazardjik Symphony, Moscow Chamber Orchestra Cantus Firmus , Brooklyn Symphony Orchestra, Academy Chamber Orchestra, Manhattan Virtuosi Orchestra and Ensemble Du Monde Orchestra, among others. His recordings include broadcasts for WNYC radio, New York; WWFM Classical Radio, New Jersey; Voice of America; Voice of Russia; Radio Free Europe; WNYE Radio, New York; WSTA Radio; WVWI AM 1000; CUNY TV; WNYE TV; NTD-TV, New York; Eurocom T; and Bulgarian National Radio and TV. Ivanov is the subject of one-hour film biography by Bulgarian National TV, broadcast in Bulgaria and internationally, and was the featured performer in an Emmy Award–nominated short film, Study With the Best, by CUNY TV. In July 2007 he recorded music to the motion picture film Lust, Caution (directed by Academy Award winner Ang Lee). He has recorded three CDs, the most recent one of which was released on MSR Classics.
In spring 2003 Ivanov, along with Natalia Gutman, Alexander Kniazev, Boris Pergamenstikov, Peter Bruns, Tomas Stral and recent winners of the Tchaikovsky competition, was selected to perform in the International Music Festival in commemoration of Daniel Shafran, sponsored by Moscow State Philharmony and the State Institute of Arts. The Music Life magazine (Moscow) called him "recognized master of the cello."
Ivanov teaches cello and chamber music at Adelphi University, the Conservatory of Music at Brooklyn College and the Brooklyn College Preparatory Center for the Performing Arts. During the last few years he performed and gave master classes at the London Festival of Bulgarian Culture (United Kingdom), Festival of the Gulf (Italy), Spring Music Academy (Bulgaria), International Music Festival, St. Petersburg (Russia), Summit Music Festival (New York), Portland Conservatory International Music Festival (Maine), Rondo Music Festival (Vermont), Long Island Conservatory International Music Festival (New York), Youngstown University (Ohio) and others. He has also taught at Long Island Conservatory, SUNY; Empire State University, SUNY; Brooklyn-Queens Conservatory; Manhattan School of Music Summer Music Camp; Manchester Music Festival and others. He led cello and chamber music master classes and was a judge of international competitions in the United States and Europe. Ivanov is a founding member of the Forte String Quartet, New York Empire Trio and Ivanov-Antimova Duo. He is a recipient of the Chancellor s Award and Cultural Achievement Award for teaching and performing in the United States as well as a career development grant by the Artist Fund of the New York Foundation for the Arts. Ivanov is represented by BV Artists International and Price Rubin & Partners.
More information may be found at Kalin Ivanov's website.