/web/com_socialImages/BrooklynCollegeLibrary_94x84.jpg
Internship Opportunities
December 10th, 2020
North American Chapter - World Youth Parliament for Water Professional Networking and Activism Opportunity
The North American Youth Parliament for Water (NAYPW) is a networking, and soon to be non-profit, organization open to youth professionals in the USA and Canada. If you are interested or work/conduct research that relates to SDG 6/Water, specifically Integrated water resources management (IWRM) or water, sanitation and hygiene (WASH) in any part of the world, this is a great place to network, find opportunities to promote your projects, or get involved in great local activism networks. In addition to being a networking organization, NAYPW offers paid and unpaid research/internship opportunities, too.  
You can fill out this Google Form to get your membership and contact info to the leadership team, and then find out more about what the network is doing!
Questions? Contact Bhagya Galkissa-Dewage (bgalki2@uic.edu), NAYPW's USA Focal Point. 
Visit their website to learn more.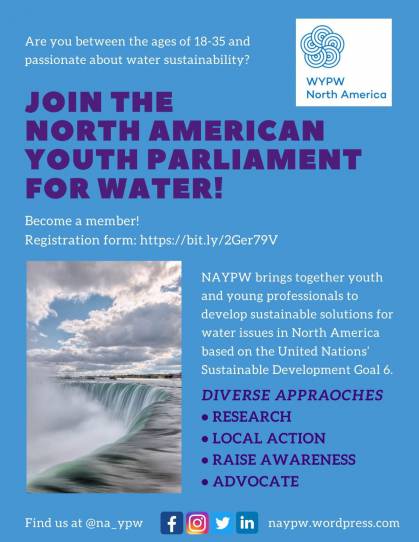 Urban Green Council Social Media and Marketing Internship 
Urban Green Council, a non-profit organization working to advance sustainability in the urban built environment, has an excellent opportunity for a highly motivated and enthusiastic individual passionate about contributing to the growing green building movement. Visit their website to learn more.
The Social Media and Marketing Intern will assist with communications and design projects as part of Urban Green's external relations. Candidates should be able to take on multiple projects and work independently with flexibility, enthusiasm and good humor. Apply here.
NYC Accelerator Boot Camp Internship
The NYC Accelerator Boot Camp is a free, one-day remote training program for CUNY students who are interested in internships and careers in the fields of energy and sustainability, facilities management, and public policy. Students who complete the boot camp as well as a series of online training sessions will be eligible to apply for the NYC Accelerator Internship Program, which places CUNY students in PAID internships with various NYC companies. Apply by December 18, 2020. Register here.  
EnergyMag Internships
EnergyMag offers a limited number of virtual internships to both college and high school students who want to make the world a better place by increasing the share of renewable energy in the world, learn about the energy storage industry, and get work experience in an exciting and fast-moving environment. You'll gain research and  analytical skills and work experience via half-time (2-8 weeks, 20 hours per week) or quarter-time (1-9 months, 8 hours per week) internships. This is an unpaid internship. Visit their website to learn more. 
Sustain Point Internships
Sustain Point is a consulting organization that services clients in the technology, sustainability and innovation industries. They are looking for motivated, hard-working undergraduates and those who have recently graduated from all over the world to join them as an intern/consultant. No prior consulting experience is required for the consultant position; just the willingness to use your skills and put in all efforts. (*Prior experience is required to apply as a project manager) Apply now! 
Recruitment Timeline: 
• Applications due DECEMBER 18th @ 11:59PM PST
• Interviews will be held on DECEMBER 19th~27th
NYPIRG Internships in Activism and Advocacy
NYPIRG is now accepting applications for Spring 2021's Internships in Activism and Advocacy
NYPIRG is a student-directed advocacy group. Last year, NYPIRG interns helped to organize Statewide Higher Education Action Day to advocate for student rights in Albany, educated the campus community about the dangers of climate change, registered hundreds of students to vote, distributed information on voting in the 2020 Presidential elections to the campus community, and more. NYPIRG works on a variety of projects: Free and Quality SUNY, Combating Poverty, Climate Change Action, Protecting Democracy, and Consumer Justice. 
The NYPIRG internship is an opportunity for student leaders to work effectively on critical social and political issues and to mobilize the campus community, and utilize all the resources and technology available to do so during a pandemic. As an intern with NYPIRG you will continue to protect students' rights, fight climate change, defend consumers who've been exploited, clean up our drinking water, combat hunger in New York State and much more. You can find the application here and someone from NYPIRG will reach out from there to schedule an interview. You can also send an email at brooklyn@nypirg.org if you have any questions.