38th Annual Brooklyn College Undergraduate Film Festival Being Held Virtually, Opening It Up to the World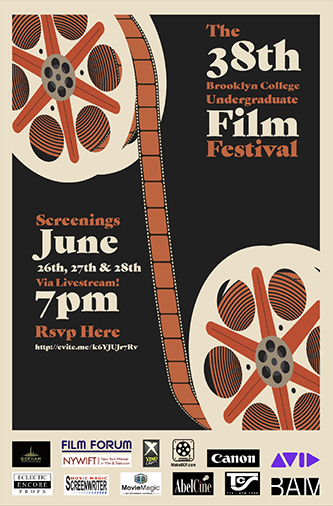 June 16, 2020
Following the lead of major international film festivals, the Brooklyn College Film Department will hold its 38th Annual Undergraduate Film Festival as a fully virtual event from June 26 to 28. Free and open to the public, the program begins at 7 p.m. An awards ceremony will follow the final screening on June 28.
This spring, the Brooklyn College Film Department graduated 120 students—a record number that has increased steadily each year. Faculty, alumni, and invited industry professionals will judge 50 films, including experimental and documentary works. Awards and prizes will be provided by a wide range of industry sponsors, among them Film Forum, BAM, Abel Cine, Canon, Xeno Lights, and AVID.
"This year the BC Undergraduate Film Festival is celebrating the resilience, hard work, determination and courage of the Class of 2020," says Film Department Chair Annette Danto. "Many of the thesis film stories are personal and as diverse as the students themselves, reflecting a wide range of cultural, ethnic, racial and social perspectives.
"Making a movie is never easy and there are always challenges," Danto says. "But the Class of 2020 faced unprecedented hurdles during the COVID-19 public health pandemic. Their ability to adapt to remote learning platforms in the middle of the semester, cope with personal and family illness, endure economic uncertainty and hardship, while continuing efforts to complete their thesis films is beyond impressive."