Angela Piva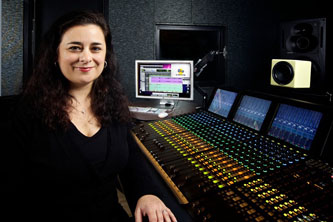 Angela Piva is an audio/mix engineer and producer, highly skilled in all aspects of music/audio production, including recording, mixing, and mastering. She has over 28 years of professional audio engineering experience and accolades including several Grammy award nominations from NARAS, as well as RIAA multi-platinum sales of recordings on which she worked.
Piva's credits include:
Music: Michael Jackson, Tony Braxton, Naughty By Nature, Queen Latifah, Run DMC, Ronnie Spector, Groove Theory, Mary J Blige, Color Me Badd, Heavy D, Christopher Williams.
Film Music Mixing: New Jack City, Poetic Justice, Juice, Love Jones, Toy Story, The Show, Sunset Park, Space Jam, NJ Drive, Why Do Fools Fall in Love.
Voiceover recording: Cherry Jones, Stanley Tucci, Lynn Redgrave, Lauren Bacall, Anderson Cooper, and more.
Piva has a bachelor's degree in music production and engineering from the Berklee School of Music and a master of the arts music (M.A.T.) degree from Lehman College (CUNY). She is a member of AES, NARAS, and ASCAP.
In her current position, Piva brings her cutting-edge knowledge to the Feirstein School of Cinema facility, which she manages, and to the Music and Cinema M.F.A. student body. On any given day, one might find her at work in the Audio Control Room, the Foley studio, the ADR room, or in a 5.1 suite, working on sessions that run the gamut from dialogue replacement, acoustic and orchestral recording, to mixing audio to picture.