M.A. Program
Department of English Statement on Black Lives Matter
The coronavirus pandemic and mounting economic distress disproportionately affect the health, well-being, and life of people of color. The racist, systemic mistreatment of black and brown people by police departments across our country appallingly compounds their distress. We unequivocally support and stand with those who have taken to the streets to protest the murders of George Floyd and Philando Castile in Minneapolis, the murders of Kendra James, Sean Bell, Eric Garner, Michael Brown, Manuel Loggins, Jr., Walter Scott, Alton Sterling, Breonna Taylor, and too many others to name. Black Lives Matter. We extend our deepest sympathy to their families and friends. These deaths are an immediate and irretrievable loss of body and soul; their cause a disease that threatens and diminishes us all. As academics and writers we must make black lives matter through our commitment to diversity in our hiring and admissions practices, in our efforts to create inclusive and safe classrooms, where we teach the creative work and history of people of color. In these ways we commit to fighting racism in our lives and in our work by advancing the values, principles, and actions to which this nation, at least by its words, commits.
Apply by January 15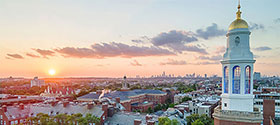 Questions?
Contact Bonnie Harris, program administrator, via e-mail.
M.A. English Program
The M.A. English Program immerses students in literature dating from the Middle Ages through the present. Through the study and analysis of a variety of literary texts, critical and theoretical approaches (including, among others, new historicism, reader-response theory, deconstruction, feminist criticism, and post-colonial studies), and historical concepts, students are afforded the opportunity to develop individual interpretations of texts and to evaluate controversies surrounding the canon. Small-group tasks, oral presentations, short papers, and longer research papers complement lectures, discussion, and examinations. Travel and research grants are available to our students, several of whom have presented at graduate colloquia at Brooklyn College and at other universities throughout the country and abroad, or had papers accepted for publication in journals.
Our graduates have found new employment or enhanced their present careers in diverse fields including education, publishing, writing for both for-profit and nonprofit organizations. Others have been accepted into doctoral programs.
M.A. English Teacher Program
Students matriculated in the M.A. English Teacher program, as well as applicants, should consult with Professor Lynda Sarnoff, coordinator of English Adolescence Education, for questions concerning the program's education requirements.
The M.A. English Teacher Program prepares students for a career teaching English from middle school through high school. Study includes analysis of several genres of literature from various historical periods, practical criticism and bibliographical methods, and theoretical approaches. Topics in the history and structure of the English language and the interrelation of language, culture and society are also part of the curriculum. Classes offered in the School of Education explore pedagogical issues and offer supervised field experiences. The program leads to professional certification by the New York State Education Department.
Our graduates are extensively employed in the New York City public schools and in those of neighboring communities; some have been accepted to doctoral programs in education across the country.
Contact Information
Geoffrey Minter, Graduate Deputy & Lecturer in English
Email: GMinter@brooklyn.cuny.edu
For questions relating the M.A. English Teacher program, contact:
Associate Professor Priya Parmar, Secondary Education Department
Email: PParmar@brooklyn.cuny.edu