Graduate
Become an expert in French or Spanish language and literature.
You're ready to take your language studies to a higher level. Our graduate programs in French and Spanish will extend your knowledge of either language far beyond stellar grammar and syntax. We'll immerse you in French and Spanish literature, theater, and culture as well. You'll learn alongside students from around the world in a sophisticated and cosmopolitan atmosphere, guided by a distinguished faculty of experts. You'll also make great use of our state-of-the-art language labs, replete with specialized software and an extensive library of audio, video, and multimedia compilations, on your way to becoming a true Francophile or Hispanist.
Contact Information
Department Chairperson: Chia-ju Chang
Deputy Chairperson: Alejandro Alonso
Graduate Deputy: Prof. Bernardita Llanos
Language Coordinator: Sara Aponte-Olivieri
Location: 4239 Boylan Hall
Phone: 718.951.5451
Email: MLL@brooklyn.cuny.edu
Fax: 718.951.4235
Spanish M.A. at Brooklyn College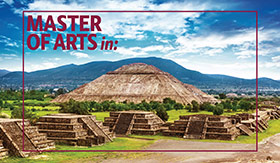 Spanish and Latin American Literature and Culture—Spanish Teacher (7–12)
Graduate students engage with Spanish and Latin American literature, cultures, translation, language, and pedagogy with an expert faculty.
Students benefit from access to the many events, programs, and resources of New York City's and Brooklyn's unique connections with Latin American and Latinx community and life.
The option to specialize in a thesis or a capstone teaching unit ensures that students are well prepared for future doctoral studies or a career as a Spanish language teacher.
Our graduates have an impressive record of success in careers in academia, public policy, international affairs, media, human rights, community organizing, and NGO and government service.
Students from all backgrounds are encouraged to apply. Full- and part-time options are available.