Human Resources staffer Lynda Sobieski '05 shares her personal story about the power of paying it forward during the CUNY Campaign for Voluntary Charitable Giving.
/web/new_2013news/131119_Power_of_1_94x84.jpg
The Power of One: The Spirit of Giving Thrives at Brooklyn College
Nov. 19, 2013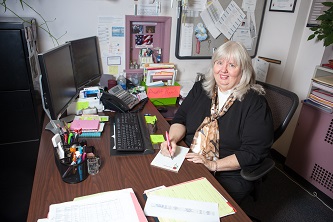 For 30 years, the City University of New York (CUNY) has organized the CUNY Campaign for Voluntary Charitable Giving, a program in which faculty and staff are given the opportunity to donate to some of their favorite charities in a way that is safe, easy, and organized, and, most importantly, has a tremendous positive impact. To date, CUNY has raised more than $12 million for over 700 participating charitable organizations through the program.

This year's theme —"The Power of 1"—highlights that giving has its greatest impact when individuals come together and contribute as a community. A Brooklyn College staff member who exemplifies this ideal is Lynda Sobieski '05.

Sobieski, who first joined the Brooklyn College staff in 1997 as a college assistant and is now manager of classified operations in the Office of Human Resources, admitted that when she first heard about the CUNY campaign several years ago, she balked at the idea, unable to see the benefit in participating or donating to charities to which she had no tangible connection. But then she came face-to-face with members of one of those organizations and had a change of heart.

"Six years ago, CUNY invited Child Abuse Prevention Program, Inc. (CAPP), a group that went around to school with puppets, so that the children could tell the puppets if they were being abused." To date, CAPP, through their Child Safety Workshop, which utilizes life-sized Kids on the Block, Inc. puppets, has educated over 420,000 school-aged children in New York City about their right to be safe and free from abuse.

Moved to tears by the children's testimonies, and the very idea that organizations like CAPP were even necessary, Sobieski signed up to have an ongoing payroll deduction made from her salary to support the program. Years later, she is donating to five additional charities through the campaign: American Red Cross in Greater New York, Brooklyn Center for the Performing Arts, Police Athletic League, Inc., Ronald McDonald House Charities, Inc., and Memorial Sloane-Kettering Cancer Center.  She chose each of those charities for specific reasons—from her concern for the well-being of children to her desire to help those New Yorkers who have been impacted by Hurricane Sandy.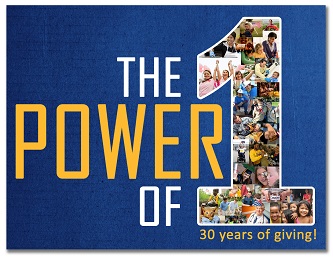 "I consider us lucky," she says of herself and her two children. "We're healthy. We have a house. We have a family. And that's made me stronger, too. And it saddens me when others aren't as lucky."

So Sobieski, who also serves on the board of directors for the Guy M. Stewart Cancer Fund, does her part by donating energy, money, and time.

"I feel that it's my duty to pay it forward."

In the 2010–2011 fiscal year, Brooklyn College was the recipient of CUNY's Chairperson's Award for significantly increasing the participation of its faculty and staff in the campaign over the previous year.

The CUNY Campaign for Voluntary Charitable Giving is currently open. Faculty and staff can donate or pledge online. Those who sign up to participate in the campaign before Friday, November 29 will be entered into a raffle to win prizes, including a free Apple iPad 2 courtesy of CUNY.
Back to BC News